RITA-T Online Training Program
Get Started
This course is currently closed
Course Credit
The following credits are available for this course:
| | |
| --- | --- |
| AMA PRA Category 1 Credits™ (MD, DO, NP, PA) | 4.0 hours |
| APA Continuing Education Credits (Psychologist) | 4.0 hours |
| ASWB ACE Continuing Education Credits (Social Worker) | 4.0 hours |
| Contact Hours (Nurse) | 4.0 hours |
(Note: a course evaluation is required to receive credit for this course.)
Roula Choueiri, MD
Director, primary care and community partnerships
Center for Autism and Related Disorders (CARD)/Kennedy Krieger Institute
Associate Professor, Neurology, Johns Hopkins Medical School
Welcome to the RITA-T web-based training! We are happy you chose to utilize this resource to become trained to administer the RITA-T in order to help better identify children at high risk for an ASD diagnosis. This web-based training program has been designed for users to work through in linear fashion with access to activities and content set to become available as you work through each piece of content.
*The RITA-T Team will be updating the administration of item I: Mirror: Self-Recognition. Please check back on the course site or our website for updates as we continue to develop this. Updates to the training course and RITA-T material will be made accordingly.*
Thank you!
The RITA-T Team
Learn more about the RITA-T on the Boston Children's Hospital website
Acknowledgements
This course would not have been possible without the help, support, advice, and patience, of a whole team that includes:
All the families, parents, and children, who have participated in this course so that other families and children benefit from improved screening.
Early Intervention Programs in Central MA and Worcester, and THOM Early Intervention Program in Worcester, MA
Initially, the IT team at UMass Chan Medical School for their help in developing this course, their support, and their advice, especially Andrea Delaney.
The IT team, web-development team at BCH.
The CME team at BCH and web-course developers
Before beginning, please print 6 RITA-T scoring sheets and the RITA-T Administration Manual from the "Downloads" tab above.
Estimated completion time: 3.5 hrs.
You can do each part at a time, i.e. save and get back to it. When you have completed all 8 sections, and achieved the appropriate scores on the practice videos, you will be awarded your certificate. If you ordered a kit, it was shipped to you when you registered.
Learning Objectives:
At the conclusion of this educational program, learners will be able to:
Train reliably on administering a level 2 interactive ASD screener, the RITA-T that differentiates between ASD and non-ASD
List the early signs of ASD
Integrate a level 2 ASD screener in practice to improve access to diagnosis
Analyze community and clinical models that can facilitate evaluations for ASD in toddlers, and strengthen community partnerships
This program consists of 8 sections:
Pre-test
The pre-test will allow you to test your knowledge on important elements such as the early signs of autism, and screening tests, and compare your progress on the post-test at at the end of the course. There is no passing score required for the pre-test.
Educational Background

Early Signs of ASD
An Early Intervention Model

Overview of the RITA-T

RITA-T overview, development, current models
Video of RITA-T administration and scoring.

Step by Step Training

In this section, you first need 3 scoring sheets labeled: CLIP 1, CLIP 2, and CLIP 3. You will watch 3 different presentations of each of the RITA-T 9 items being administered. You can watch this as many times as needed.
When ready, you will score that item on the corresponding sheet. After you hand score each clip, you will then enter your scores on the corresponding questions under the video.
After selecting your answers, select "Finish Activity" and you will be given points based on how many items you got correct for that press and an explanation on how the scoring was determined. You can re-score as many times as needed.
Once you have completed the "post-clip quiz" for all 27 clips you will be ready to move on to the Independent Practice.

Independent Practice Videos

For this final section, you will watch 3 complete administrations of the RITA-T, one video at a time. You will use the 3 remaining scoring sheets to score each administration.
At the end of each of the 3 test administrations you will select the correct score range for the administration.
You must get the correct final score on the 3 videos within 3 points range to pass the evaluation and receive your certificate. You can re-score the videos as many times as needed.

Post-test
You will need to complete a post-test at the completion of this training. You must earn a 70% or higher to continue. You can repeat this test as many times as you need to achieve this score.
Course Evaluation
Following the post-test, we ask that you complete a very short survey about the course. We will receive notification that you have completed your training.
Now you have trained on the RITA-T! Then what?
Now you need to practice using the RITA-T! Allow yourself a few times to administer it "live" even with the manual until you feel totally confident. Administer the RITA-T on young children in your family. Become familiar with each of the items and how to use them correctly. Administer the test on young children in your program who you do not have concerns for. Score in pairs to become familiar with the scoring and to establish interrater reliability. Identify a system within your program to integrate the RITA-T.
Please review the RITA-T Syllabus below, or download it with the link in the sidebar to the right. Once you have done that, please take the pre-test. The pre-test is designed to asses your general knowledge of the early signs of autism as well as characteristics of certain screening tools. The post-test is designed to assess your knowledge gain after having taken the course. See the Help tab for information about navigation this course and other frequently asked questions.
You will need to download and print one (1) copy of the RITA-T Manual, which you should keep with you as you practice and administer the screening test. You will also need to print a minimum of six (6) scoring sheets for this training. However, you can print as many scoring sheets as you need for extra practice and/or future use.
RITA-T Telehealth Material
The Telehealth RITA-T can be implemented in your practice or program once you have trained and are comfortable with the use and administration of the in-person RITA-T. You do not have to print any copies of the Telehealth material for this training. Please reach out to us at RITA-T@childrens.harvard.edu if you have any questions.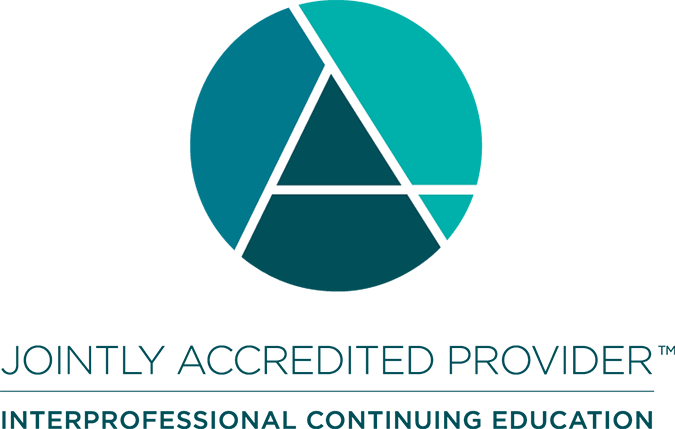 In support of improving patient care, Boston Children's Hospital is jointly accredited by the Accreditation Council for Continuing Medical Education (ACCME), the Accreditation Council for Pharmacy Education (ACPE), and the American Nurses Credentialing Center (ANCC), to provide continuing education for the healthcare team.
Physicians, Physician Assistants, and Nurse Practitioners
Boston Children's Hospital designates this live activity for a maximum of 3.5 AMA PRA Category 1 Credits ™. Physicians should claim only credit commensurate with the extent of their participation in this activity.
Nurse
Boston Children's Hospital designates this activity for 4.00 contact hours for nurses. Nurses should only claim credit commensurate with the extent of their participation in the activity.
Psychologist
Continuing Education (CE) credits for psychologists are provided through the co-sponsorship of the American Psychological Association (APA) Office of Continuing Education in Psychology (CEP). The APA CEP Office maintains responsibly for the content of the programs.
Social Worker
As a Jointly Accredited Organization, Boston Children's Hospital is approved to offer social work continuing education by the Association of Social Work Boards (ASWB) Approved Continuing Education (ACE) program. Organizations, not individual courses, are approved under this program. State and provincial regulatory boards have the final authority to determine whether an individual course may be accepted for continuing education credit. Boston Children's Hospital maintains responsibility for this course. Social workers completing this course receive 4.00 ACE CE continuing education credits.
Disclosures
The RITA-T is an empirically derived, level-2 interactive measure that has been developed to screen for autism spectrum disorders in toddlers 18 to 36 months of age. Early Childhood and Health care providers can become trained to administer the RITA-T, which can be integrated into diverse settings to better screen and identify toddlers who are high risk and need further diagnostic evaluation. The screening test consist of 9 items and takes about 10 minutes to administer and score. Each of the 9 activities designed to evaluate five developmental constructs known to represent early signs of ASD in toddlers 18-36 months.
This online training program has been designed to mirror the in-person training protocol as best as possible. The content provided, requirements for certification, and time required for completion are all equal to what is offered in the live training. Efforts have been made to provide trainees with enough content to answer questions without additional support, however we understand there may be times when there are specific questions and we will answer this questions in a reasonable amount of time. It is important to note that this is an interactive screening test, and you should seek further diagnostic testing and consult your pediatrician if you have concerns for ASD.
Boston Children's Hospital adheres to all ACCME Essential Areas, Standards, and Policies. It is Boston Children's policy that those who have influenced the content of a CME activity (e.g. planners, faculty, authors, reviewers and others) disclose all relevant financial relationships with commercial entities so that Boston Children's may identify and resolve any conflicts of interest prior to the activity. These disclosures will be provided in the activity materials along with disclosure of any commercial support received for the activity. Additionally, faculty members have been instructed to disclose any limitations of data and unlabeled or investigational uses of products during their presentations.
The following planners, speakers, and content reviewers, on behalf of themselves, have reported the following relevant financial relationships with any entity producing, marketing, reselling, or distributing health care goods or services consumed by, or used on patients:
Please see the FAQs below for common questions about how to work through a course. If you have a question or issue that is not addressed in the FAQ, please use this form to submit a help request, or if your issue is urgent, call the CME office at: 617-919-9908.
How do navigate this course?
How do I navigate this course?

There are two ways to access and navigate course content with the interactive table of contents: at the bottom of the main course page or in the sidebar on the right side of the page. Select the links in the table of contents to access the corresponding content. Depending on the course, access to content may be linear, in which case each content module or section can only be accessed if the prior ones are completed, or non-linear, in which case modules and sections can be accessed in any order. Use the breadcrumbs at the top of any course page to orient yourself within a course, or return to a previous course section or the main course page.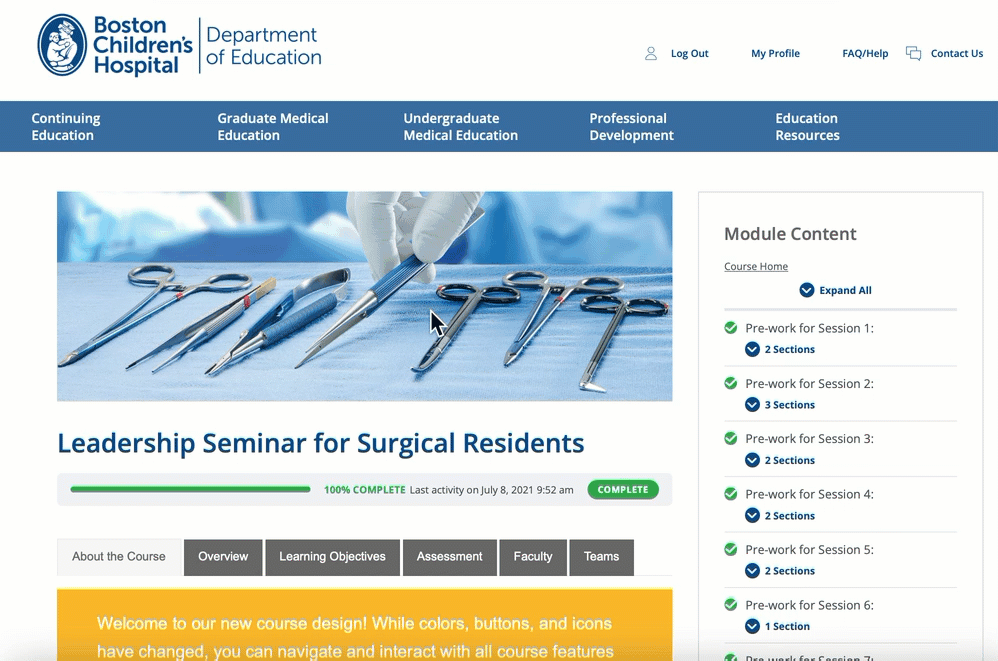 How do I claim credit for this course?
How do I claim credit?

If the course has been accredited, available credits will be displayed on the course home page. Select only those credits that apply to your profession, and click/tap "Apply Selection." You may make your selection at any point while you are taking the course, or after you have completed it.
How do I download a certificate?
How do I download a certificate?

There are two ways to view/download your certificate: from within the course or from the course listing under your profile (select the document icon). In either case, you must have selected at least one available course credit type to generate a certificate.
How do I view/print my transcript?
How do I view/print my transcript?

You must be logged in to view your transcript. Select My Profile at the top of the page. If you do not see the transcript selector, be sure the Courses tab is selected. Select the type of credit and dates to include in your credit report. To include all credits from all time, leave the options blank. Select Download Transcript to view/download your transcript. Note each credit type in your transcripts starts a new page.
How do I request a refund?
How do I request a refund?

Please email the CME Department to request a refund.