Media Use Therapy for Problematic Interactive Media Use
Get Started
This course is currently closed
Course Credit
The following credits are available for this course:
| | |
| --- | --- |
| Risk Management Credits | 0.5 hours |
| AMA PRA Category 1 Credits™ (MD, DO, NP, PA) | 0.5 hours |
| American Academy of Physician Assistants (AAPA) Category 1 CME Credits | 0.5 hours |
| APA Continuing Education Credits (Psychologist) | 0.5 hours |
| ASWB ACE Continuing Education Credits (Social Worker) | 0.5 hours |
| Contact Hours (Nurse) | 0.5 hours |
Tarek Aly, MD, MPH
Psychiatrist, Mosaic Psychiatry; Associate, Digital Wellness Lab at Boston Children's Hospital
In this course, Dr. Tarek Aly defines media use therapy through the modules listed in the MUT Manual and explains how it is used to treat Problematic Interactive Media Use (PIMU) cases. The presentation was recorded at Problematic Interactive Media Use (PIMU): Gaming, Social Media, and More, on 10/15/21.
Learning Objectives:
At the conclusion of this educational program, learners will be able to:
Understand media use therapy through the modules in the MUT Manual: Assessment, Education, Intervention, Maintenance, and Closure.
Expand upon general mental health evaluation and treatment by tailoring assessments, education, intervention, and maintenance to be related to PIMU.
Discuss how culture, environment, medical comorbidities, and psychological and developmental issues may influence Problematic Interactive Media Use and media use therapy.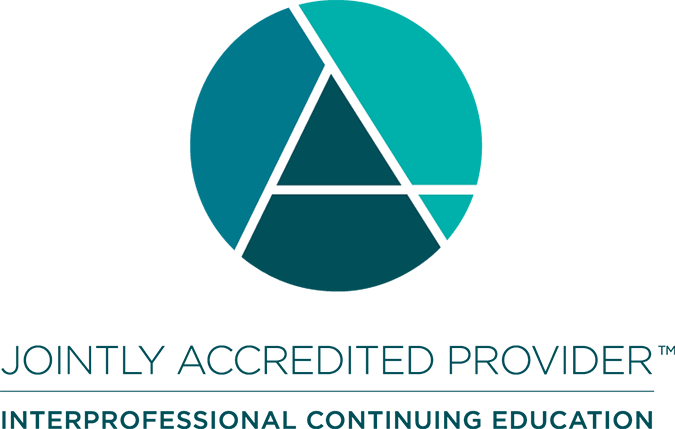 In support of improving patient care, Boston Children's Hospital is jointly accredited by the Accreditation Council for Continuing Medical Education (ACCME), the Accreditation Council for Pharmacy Education (ACPE), and the American Nurses Credentialing Center (ANCC), to provide continuing education for the healthcare team.
Physician
Boston Children's Hospital designates this live activity for a maximum of 0.5 AMA PRA Category 1 Credits ™ . Physicians should claim only credit commensurate with the extent of their participation in this activity.
Risk Management
This activity meets the requirements for 0.5 Risk Management Credits as proscribed by the Massachusetts Board of Registration in Medicine and defined in 243 CMR 2.06(5)(d) I. Please check your individual state licensing board requirements before claiming these credits.
Disclosure Policy
Boston Children's Hospital adheres to all ACCME Essential Areas, Standards, and Policies. It is Boston Children's policy that those who have influenced the content of a CE activity (e.g. planners, faculty, authors, reviewers and others) disclose all relevant financial relationships with commercial entities so that Boston Children's may identify and resolve any conflicts of interest prior to the activity. These disclosures will be provided in the activity materials along with disclosure of any commercial support received for the activity. Additionally, faculty members have been instructed to disclose any limitations of data and unlabeled or investigational uses of products during their presentations.
Disclosure Statement
The following planners, speakers, and content reviewers, on behalf of themselves, have reported the following relevant financial relationships with any entity producing, marketing, reselling, or distributing health care goods or services consumed by, or used on patients:
Please see the FAQs below for common questions about how to work through a course. If you have a question or issue that is not addressed in the FAQ, please use this form to submit a help request, or if your issue urgent, call the CE office at: 617-919-9908.
How do I Navigate this Course?
How do I navigate this course?

There are two ways to access and navigate course content with the interactive table of contents: at the bottom of the main course page or in the sidebar on the right side of the page. Select the links in the table of contents to access the corresponding content. Depending on the course, access to content may be linear, in which case each content module or section can only be accessed if the prior ones are completed, or non-linear, in which case modules and sections can be accessed in any order. Use the breadcrumbs at the top of any course page to orient yourself within a course, or return to a previous course section or the main course page.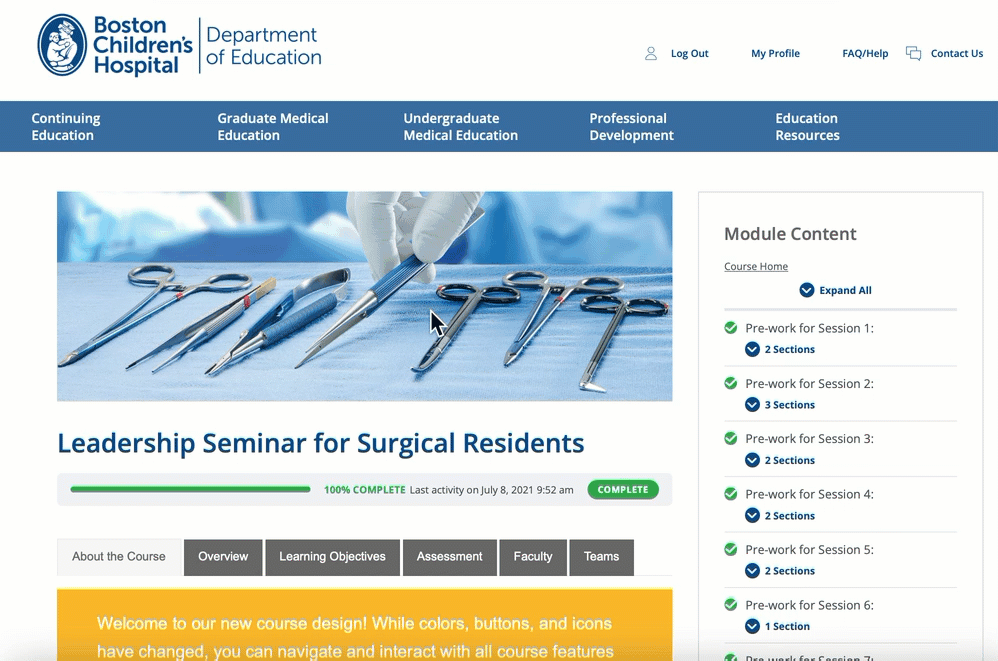 How do I claim credit for this course?
How do I claim credit?

If the course has been accredited, available credits will be displayed on the course home page. Select only those credits that apply to your profession, and click/tap "Apply Selection." You may make your selection at any point while you are taking the course, or after you have completed it.
How do I download a certificate?
How do I download a certificate?

There are two ways to view/download your certificate: from within the course or from the course listing under your profile (select the document icon). In either case, you must have selected at least one available course credit type to generate a certificate.
How do I view/print my transcript?
How do I view/print my transcript?

You must be logged in to view your transcript. Select My Profile at the top of the page. If you do not see the transcript selector, be sure the Courses tab is selected. Select the type of credit and dates to include in your credit report. To include all credits from all time, leave the options blank. Select Download Transcript to view/download your transcript. Note each credit type in your transcripts starts a new page.
How do I request a refund?
How do I request a refund?

Please email the CE Department to request a refund.