Episode 9: Laws and Regulations that Govern Celiac Disease
Get Started
This course is currently closed
Course Credit
The following credits are available for this course:
| | |
| --- | --- |
| AMA PRA Category 1 Credits™ (MD, DO, NP, PA) | 1.0 hours |
| Contact Hours (Nurse) | 1.0 hours |
| ASWB ACE Continuing Education Credits (Social Worker) | 1.0 hours |
| CDR CPEUs (Registered Dietitian) | 1.0 hours |
(Note: a course evaluation is required to receive credit for this course.)
Vanessa Weisbrod
Director, Celiac Disease Program
Janis Arnold, MSW, LICSW
Clinical Social Worker, Division of Gastroenterology, Hepatology, and Nutrition
Mary C. Vargas
Partner, Stein & Vargas LLP
In this episode, Mary C. Vargas describes federal laws that govern celiac disease. Furthermore, Mary Vargas explains the rights of patients with celiac disease to receive accommodations in the school setting as well as the role of a medical provider in helping patients gain access to appropriate accommodations in the school setting.
Learning Objectives:
At the conclusion of this educational program, learners will be able to:
Describe federal laws that govern celiac disease.
Explain the rights of patients with celiac disease to receive accommodations in the school setting.
Understand the role of a medical provider in helping a patient with celiac disease gain access to appropriate accommodations in the school setting.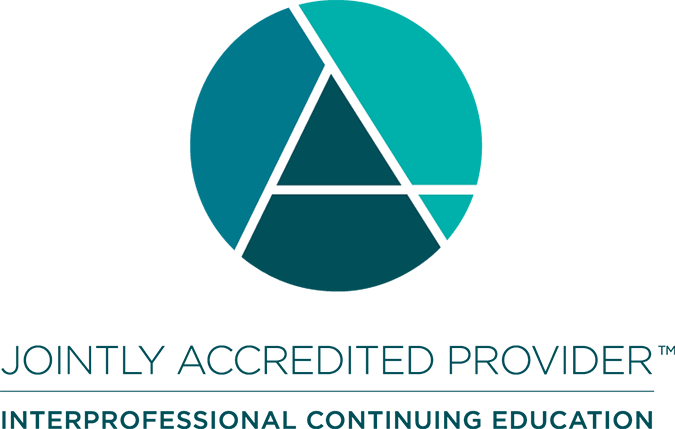 In support of improving patient care, Boston Children's Hospital is jointly accredited by the Accreditation Council for Continuing Medical Education (ACCME), the Accreditation Council for Pharmacy Education (ACPE), and the American Nurses Credentialing Center (ANCC), to provide continuing education for the healthcare team.
Physicians
Boston Children's Hospital designates this live activity for a maximum of 1.0 AMA PRA Category 1 Credits ™. Physicians should claim only credit commensurate with the extent of their participation in this activity.
Nurse
Boston Children's Hospital designates this activity for 1.0 contact hours for nurses. Nurses should only claim credit commensurate with the extent of their participation in the activity.
Social Work
As a Jointly Accredited Organization, Boston Children's Hospital is approved to offer social work continuing education by the Association of Social Work Boards (ASWB) Approved Continuing Education (ACE) program. Organizations, not individual courses, are approved under this program. State and provincial regulatory boards have the final authority to determine whether an individual course may be accepted for continuing education credit. Boston Children's Hospital maintains responsibility for this course. Social
workers completing this course receive 1.0 ACE CE continuing education credits.
Dietician
Boston Children's Hospital designates this activity for 1.0 contact hours for dieticians. Dieticians should only claim credit commensurate with the extent of their participation in the activity.
Disclosures
Boston Children's Hospital adheres to all ACCME Essential Areas, Standards, and Policies. It is Boston Children's policy that those who have influenced the content of a CME activity (e.g. planners, faculty, authors, reviewers and others) disclose all relevant financial relationships with commercial entities so that Boston Children's may identify and resolve any conflicts of interest prior to the activity. These disclosures will be provided in the activity materials along with disclosure of any commercial support received for the activity. Additionally, faculty members have been instructed to disclose any limitations of data and unlabeled or investigational uses of products during their presentations.
The following planners, speakers, and content reviewers, on behalf of themselves, have reported the following relevant financial relationships with any entity producing, marketing, reselling, or distributing health care goods or services consumed by, or used on patients:
Please see the FAQs below for common questions about how to work through a course. If you have a question or issue that is not addressed in the FAQ, please use this form to submit a help request, or if your issue is urgent, call the CME office at: 617-919-9908.
How do navigate this course?
How do I navigate this course?

There are two ways to access and navigate course content with the interactive table of contents: at the bottom of the main course page or in the sidebar on the right side of the page. Select the links in the table of contents to access the corresponding content. Depending on the course, access to content may be linear, in which case each content module or section can only be accessed if the prior ones are completed, or non-linear, in which case modules and sections can be accessed in any order. Use the breadcrumbs at the top of any course page to orient yourself within a course, or return to a previous course section or the main course page.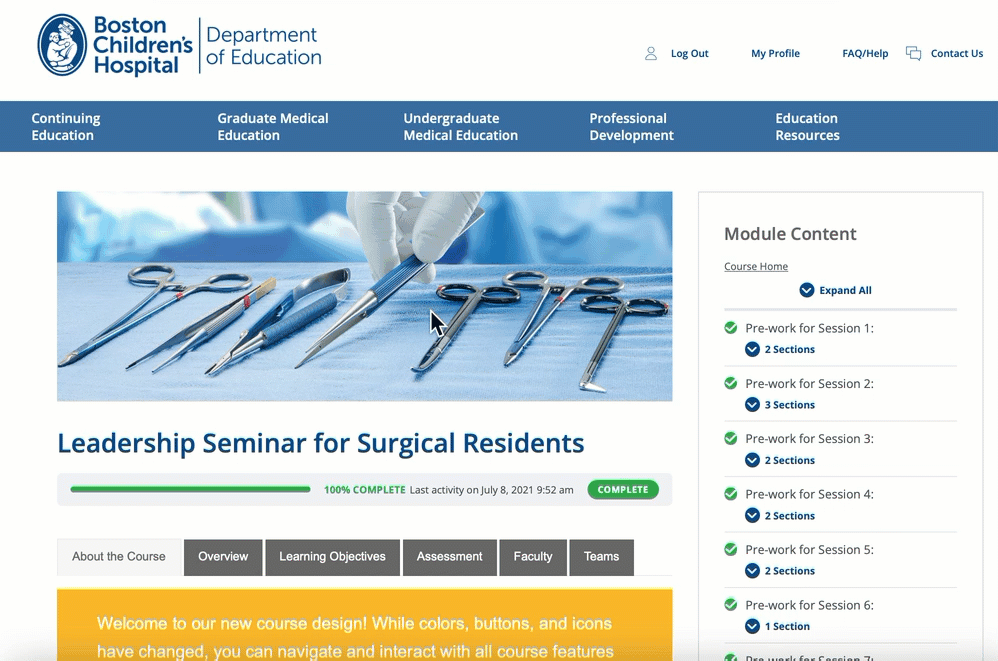 How do I claim credit for this course?
How do I claim credit?

If the course has been accredited, available credits will be displayed on the course home page. Select only those credits that apply to your profession, and click/tap "Apply Selection." You may make your selection at any point while you are taking the course, or after you have completed it.
How do I download a certificate?
How do I download a certificate?

There are two ways to view/download your certificate: from within the course or from the course listing under your profile (select the document icon). In either case, you must have selected at least one available course credit type to generate a certificate.
How do I view/print my transcript?
How do I view/print my transcript?

You must be logged in to view your transcript. Select My Profile at the top of the page. If you do not see the transcript selector, be sure the Courses tab is selected. Select the type of credit and dates to include in your credit report. To include all credits from all time, leave the options blank. Select Download Transcript to view/download your transcript. Note each credit type in your transcripts starts a new page.
How do I request a refund?
How do I request a refund?

Please email the CME Department to request a refund.
Click Here to View Transcript
Vanessa Weisbrod:
Welcome to Raising Celiac, a podcast dedicated to raising the standard of education, awareness, and research on celiac disease and related autoimmune conditions. I'm Vanessa Weisbrod, the education director of the Celiac Program at Boston Children's Hospital. And each month on the podcast, we will invite leading experts to dive into a condition related to celiac and look at how it impacts a patient's family, the latest research, and offer suggestions for health providers to manage these complex cases.
Every episode of the Raising Celiac podcast is accredited by the Boston Children's Hospital Continuing Education Department for 0.5 AMA PRA category one credits for physicians, 0.5 contact hours for nurses, 0.5 ACE CE continuing education credits for social workers, and 0.5 CEUs for registered dieticians. To claim your credits for listening to today's episode, please visit DME.Childrenshospital.org/raisingceliac.
Let's get started with this month's Raising Celiac patient story.
Speaker 2:
Rachel was a vibrant and energetic child. She was born in Singapore while her father was completing a research fellowship at a prestigious university, but her family moved back to San Diego when she was four years old. Her father was a professor of economics at the University of California San Diego, and her mom owned an Asian fusion restaurant near the beach that made the best dumplings in town. She had two brothers, both older than her. While many assumed she would grow up a tomboy, it was quite the opposite. Her brothers had no problem hosting tea parties with their little sister, and they regularly practiced dances with her while her parents were busy working.
Rachel never had many health problems or complaints. The common cold here and there, but nothing all that remarkable. It wasn't until she was eight years old and getting fitted for her dance costume that the elderly seamstress commented on her rather bloated belly. "Your belly and those skinny little legs remind me of how my grandson looked before he was diagnosed with celiac disease. You should tell your mother to ask your doctor if gluten is bad for you," the seamstress exclaimed.
Rachel completely forgot about the conversation and didn't mention it to her mother. Months went by until the word celiac came up again. Rachel was getting her hair cut and the stylist said her hair felt dry and brittle and was coming out in clumps on the brush in a way that didn't seem right for an eight-year- old. The stylist went on to tell Rachel and her mom about a past client with similar hair who went on to be diagnosed with celiac disease. She was totally baffled that eating gluten made her hair fall out.
That afternoon, Rachel and her mom looked up celiac disease online. Rachel never felt sick, rarely had diarrhea, and no foods seemed to bother her, but she agreed that her belly was a little funny looking, roundish like a small basketball under her shirt, and her hair was falling out.
Vanessa Weisbrod:
Digestive symptoms like bloating, gas and abdominal pain are common in children with celiac disease. The good news is that once diagnosed and following a strict gluten-free diet, these symptoms will go away. However, celiac can sometimes be challenging to diagnose because doctors often look for expected gastrointestinal symptoms like diarrhea, abdominal pain, and weight loss. That's why it's important that a child be seen by specialists who have lots of experience with the different ways that celiac can appear in kids.
Speaker 2:
Rachel's mom scheduled an appointment with her pediatrician, but admittedly felt a little unsure if her daughter really needed to see a doctor. She wasn't complaining about symptoms, but it couldn't hurt to have her checked out. The pediatrician examined Rachel's belly and suggested running some blood work just to make sure nothing was going on. He included the tissue transglutaminase antibody test, as well as several other tests for nutrient deficiencies.
Vanessa Weisbrod:
Malabsorption of vitamins and minerals can cause an array of nutritional deficiencies, which can affect many parts of the body, including hair growth. Even in cases with mild nutritional deficiencies, patients may experience changes in their hair, with many reporting their hair feels brittle and damaged. Some experience thinning hair while others may have a rash or dermatitis on the scalp. Other conditions related to celiac disease like Hashimoto thyroid disease and alopecia can also cause issues with one's hair.
Speaker 2:
Six days after getting her blood drawn, Rachel's doctor called with the results. Her tissue transglutaminase antibody levels were over 200, and she was significantly B12 deficient. She was referred to a pediatric gastroenterologist and four weeks later had a positive biopsy for celiac disease.
At the time of her diagnosis, the gastroenterologist reminded Rachel's family that they all needed to be screened for celiac disease. Within the next two weeks, Rachel's father and one of her brothers, Aiden, were also diagnosed. While they were all seemingly asymptomatic, as they learned more about celiac disease, they realized that her dad's headaches and her brother's frequent mouth sores were likely caused by celiac disease.
It was currently the start of summer vacation, and Rachel's family transitioned seamlessly to a gluten- free diet at home. They removed gluten from their entire kitchen, and her mom even converted her entire restaurant to be gluten-free. She wanted everyone to be able to eat safely at her restaurant regardless of dietary restrictions, so she undertook a complete menu redesign to convert every single dish to be gluten-free and have alternatives for other food allergies as well.
The food tasted so delicious that no one noticed the shift to using gluten-free ingredients. Life seemed to be going great until the week before school started, and Rachel's mom remembered she needed to contact the elementary school about accommodations for both Rachel and Aiden. She started reading online about the types of accommodations she should ask for and quickly got overwhelmed.
Vanessa Weisbrod:
There are approximately 74 million school-aged children in the United States alone, thus an estimated 740,000 schoolchildren who require a gluten-free diet for celiac disease. Celiac can cause significant effects on children and their families as well as on the school they attend. We know that many children and teens do not follow a strict gluten-free diet and most often consume gluten-containing foods during meals with peers.
Kids also risk being exposed to gluten at lunchtime, during class celebrations, and cross contact with gluten containing materials like Play-Doh, paper mache, art supplies, science experiments, and cooking classes.
Speaker 2:
Rachel's mom quickly learned that her children would both need a 504 plan to document their accommodations at school. She reached out to their gastroenterologist to get a copy of their diagnosis letters and forwarded them along to the school nurse with a request to set up the plans. She expected a quick response from the school and a warm welcome to come in to develop the 504 accommodation plan.
What she got was quite the opposite, a cold reply informing her that the school would not offer a 504 plan for celiac disease because neither Rachel nor Aiden had any troubles academically. Celiac disease did not impact their ability to learn, and therefore they didn't qualify for a plan. They could order gluten- free options in the cafeteria by contacting the food service provider themselves.
Vanessa Weisbrod:
The Americans with Disabilities Act of 1990 defines a disability as a physical or mental impairment that substantially limits one or more major life activities. Eating, digestion, and immune function are all considered major life activities, meaning that celiac qualifies for protection under this law. Section 504 of the Rehabilitation Act of 1973 prohibits discrimination based on a disability in all institutions receiving federal financial assistance, including schools. It requires institutions to provide educational programming that is designed to meet the student's individual educational needs as adequately as the needs of non-disabled students are met.
This means that a child with celiac must have access to all programming, including breakfast and lunch programs, that does not put them at risk for a gluten exposure while still allowing them to fully participate in the activity. It's important to know that any accommodation provided under this law must be considered reasonable.
There are several types of plans that schools can develop to help children with a medical condition succeed. For a child face celiac disease attending a public school or an institution that receives federal funding, he or she should have a 504 plan in place. The 504 plan is a legally-binding agreement that addresses accommodations in academic areas, but also in all other school-sponsored activities like sports, clubs, and parent-teacher organization events.
The 504 plan documents the accommodation that will allow the child to fully participate in all educational and social activities that are sponsored by the learning environment. What's important to note about this type of plan is that academic performance is not a factor in determining eligibility. Even an A plus student is eligible. The goal with the 504 plan is to set up a clear path for inclusion and safety for the child with celiac disease.
Speaker 2:
Feeling a bit defeated by the email reply from the school nurse, Rachel's mom did some more digging and reached out to the social worker affiliated with their gastroenterologist's office. The social worker confirmed everything she had read online about the 504 plan being the most appropriate type of plan for a child with celiac disease at school. She reviewed the types of accommodations that should be documented in the 504 plan, like having gluten-free materials in the classroom, access to gluten-free breakfast and lunch at school, accommodations for field trips and extracurricular activities, and provisions for using the bathroom when needed.
The social worker also provided Rachel's mom with a copy of the 2020 voluntary recommendations for managing celiac disease in learning environments, which helped her better understand the laws. After reading all of these materials, she started drafting a reply to the school nurse that very clearly
documented the request for a formal 504 plan meeting. The nurse wrote back again saying a 504 plan was not possible, but they could meet to discuss a health plan. Again, Rachel's mom felt defeated.
Vanessa Weisbrod:
Some children with celiac disease may have an individualized education plan, or IEP for short. This type of plan would be appropriate if the child also has a disability that directly affects their academic performance like dyslexia, ADHD, autism, virtual impairments or speech language difficulties. Celiac disease accommodations could be added to the IEP documents specific with ways to manage the gluten- free diet in school.
Unlike the 504 plan, the IEP requires there to be measurable annual goals and objectives for the child's education. The other type of plan some schools offer is called an individualized healthcare plan, or IHP. This plan is not legally enforceable, but deals with handling medical issues in the school's setting, such as responding to a child who is ill from a gluten exposure. For a child with celiac disease, an IHP could accompany a 504 plan or IEP, but should not be the standalone plan.
So how do parents know which type of plan their child should have? What do they do if the school is unwilling to set up a 504 plan? Where do they turn to for help, and what should a child with celiac disease expect in the school environment? We'll discuss this and more on today's episode of Raising Celiac.
Today we talk about celiac disease and accommodations in the school environment with Mary Vargas of Stein and Vargas, LLP. Mary is committed to ensuring full and equal access for all individuals. She has litigated landmark cases pursuant to the Americans with Disabilities Act and the Rehabilitation Act throughout the United States in federal and state courts, including our Argenyi versus Creighton University, Featherstone versus Pacific Northwest University, and JD versus Colonial Williamsburg Foundation.
Ms. Vargas speaks nationally on issues including disability discrimination, food allergy and anaphylaxis, and celiac disease. Mary, welcome to Raising Celiac.
Mary Vargas:
Thank you. I'm so happy to be here.
Vanessa Weisbrod:
So let's start with discussing how celiac disease qualifies as a disability.
Mary Vargas:
Sure. So celiac disease causes substantial impairment of major life activities. It impacts multiple body systems, and as a result of that, it meets the definition in federal law to qualify as a disability.
Vanessa Weisbrod:
What are the legal rights of a child with celiac disease in the school setting?
Mary Vargas:
So in both public and private schools, students with celiac disease have a right to full, equal and safe participation. They have a right to be present in the classroom, to have access to the same programs and
services as students without disabilities have, as well as the right to have accommodations and modifications to make sure that they're safe and well and able to participate in school.
Vanessa Weisbrod:
So you've been at the forefront of legal disputes regarding celiac disease as a disability. Can you tell our listeners about these cases and how we got to where we are today?
Mary Vargas:
Sure. So the Americans with Disabilities Act was amended to ensure that courts were not focusing so much on whether somebody's disability impaired their life enough and was focusing more on ensuring access. So prior to the amendments of the ADA, there were cases that held that things like food allergies and celiac disease might not qualify as a disability. Once the law was amended, those concerns were refocused by Congress on ensuring access. So after the amendments to the ADA, we were able to litigate cases throughout the United States establishing that things like celiac disease and even non- celiac gluten sensitivity can qualify as a disability within the meaning of federal law.
Vanessa Weisbrod:
So why a 504 plan for a child with celiac disease?
Mary Vargas:
A 504 plan because the way to have a good relationship with a school and the way to ensure your child's legal rights are respected is to have everybody agree on what needs to be done, what legal rights the student has, what obligations the family has, what obligations the school has.
The 504 is an enforceable document, but more important, it's a meeting of the minds. It's an opportunity for the school and the parents to talk about important concerns and how those concerns are going to be addressed, hopefully before there are disagreements.
Vanessa Weisbrod:
Absolutely, and the before disagreements is definitely key here. So for our patients, Rachel and Aiden, their school said that they didn't need a 504 plan because they were academically doing just fine. Why is this wrong?
Mary Vargas:
So that kind of old school thinking is legally incorrect, but it also embodies negative views about disability, that you're only entitled to legal rights if you're somehow less than, if you're somehow not performing. And that's not really the point. The point is everybody has a full and equal opportunity to participate.
If a student has celiac disease, they will need accommodations in the classroom, modifications to ensure that they can participate equally, and it doesn't depend on whether their grades are good or not. It doesn't depend on how they're performing in the classroom. It depends on whether they have a disability and if they have a disability, what accommodations that disability requires in order for them to be healthy and safe and participating in the classroom.
Vanessa Weisbrod:
So tell our listeners about what the child will need to provide to their school to get a 504 plan.
Mary Vargas:
So the first step is contacting the school district and requesting a meeting to determine eligibility for
504. Typically, what's provided in the case of a celiac disease diagnosis or a non-celiac gluten sensitivity diagnosis is a letter from a appropriately-credentialed specialist, a gastroenterologist, a celiac disease program or their treating provider, explaining that they have a diagnosis and that it substantially impairs major life activities.
It's helpful if that letter says a little bit about how that diagnosis impairs their major life activities. Now, sometimes we see that school districts ask to have direct conversations with specialists. I don't generally recommend that. I think it's important to make sure that the conversation is appropriately limited to the information that a school needs in order to determine eligibility and not a broad release to discuss all aspects of a student's private medical history.
Vanessa Weisbrod:
And for celiac disease, it can be pretty simple, right? Eating and digestion are very major bodily functions that we all need.
Mary Vargas:
Right. For those of us who have celiac disease or have a loved one who has celiac disease, it seems abundantly obvious that a celiac diagnosis substantially impairs all aspects of life. Not that it needs to limit a person, but it does impact their eating. It can impact their concentration, it can impact their ability to be at school when they've been exposed to gluten and are having flares of their symptoms.
Vanessa Weisbrod:
For sure. So what types of accommodations should parents expect to see in a 504 plan?
Mary Vargas:
So first of all, I find that the best way to develop accommodations plans is not to come in with a cold- hearted list of everything that you think your student needs. Certainly it's helpful to have notes and an idea of accommodations that your student might need, but it's important to recognize that the school also has expertise in how the classrooms are run and how their meals are served, and it's helpful to be able to have a conversation with the school about where there are going to be issues and then work cooperatively with the school to identify solutions to those issues.
So thinking about when is there food in the classroom and how to make sure that students have a full and equal experience in those opportunities. It's helpful to think about what policies are on absences. It's helpful to think about what policies are on access to the bathrooms.
It's pretty common, for example, in high schools now for students to have quite limited restricted access to bathrooms. If that's the case, it's an important conversation to have to make sure that a high school age student particularly is not being limited from access to the bathroom and has ready access to the bathroom when they need it.
It's important to think about field trips. It's important to think about classes, like whether there are home economics-type classes that might involve cooking or eating or science experiments that involve preparing pizzas with potentially flour and gluten or eating and tasting things in order to conduct lab
experiments. There are lots of ways that food is in the curriculum and is ingrained in our school systems, and it's important to think about each of those kinds of contexts and how to make sure ahead of time that everybody's agreed on how to handle those barriers.
Vanessa Weisbrod:
My favorite one this year has been the moldy bread experiment, which has been revitalized where they're rubbing pieces of bread on every surface in the school building. I thought this one had gone away, but no, it's back.
Mary Vargas:
And one of the challenges that I do see, particularly when asking doctors to write letters supporting disability determinations and accommodations, is that often doctors are not necessarily aware of how pervasive food is in modern classrooms, how often there are science experiments like rubbing bread on people and places and doorknobs that you just wouldn't expect. How often there are classroom parties and birthday celebrations. That varies from school district to school district, but in some school districts it's very frequent, omnipresent, and given that, it's particularly important to make sure that celiac students are included and are not on a very regular basis excluded from opportunities that other students have.
Vanessa Weisbrod:
Absolutely. So what should parents do if their child's school refuses to provide a 504 plan?
Mary Vargas:
So first of all, I think it's important to be prepared to have a level-headed, respectful conversation. When you have a child with celiac disease and they're denied services, it hits kind of a primal place. And I know as a parent myself that sometimes it's hard to take a deep breath and remember that it's important to establish a long-term good relationship with the school. If the response to that refusal is immediately escalating in emotion in response, that can break down a relationship down the road.
And often what's really needed is to open a respectful dialogue, to ask for a meeting, to bring documentation from your specialists so you can provide the information that's needed, to highlight examples of where there are barriers, for example, that have nothing to do with whether a child is an A student or not, and talk about how to address those. There are materials available on how to manage celiac disease in the classroom. You can certainly provide those to a school district, but often if you open that kind of conversation, the refusal, the school will rethink that refusal. Many times it's not necessary to go to, for example, due process or some kind of legal proceeding to actually obtain a 504. Often a respectful conversation with the appropriate documentation required will prompt an equally respectful response from a school.
Vanessa Weisbrod:
So let's talk about food at school. Are schools required to provide a safe gluten-free option for students with celiac disease?
Mary Vargas:
Yes. So this is something that I see commonly not understood and not happening. But yes, schools are legally obligated to ensure full and equal access, including in diets. And when there are diets provided for students, there needs to be a safe gluten-free diet provided for celiac students as well.
Vanessa Weisbrod:
Can a school suggest that in an accommodation for a gluten-free meal is requiring the child to bring it from home?
Mary Vargas:
No, that can't be required. Now, first of all, there are some parents who will affirmatively ask to be able to bring their own food, who will choose to do that, but you can't force a parent to do that and doing so not only as unlawful, but it burdens families who already are facing increased costs for purchasing gluten-free food. It requires them to do something that other parents don't have to do, and oftentimes it places a financial burden on parents that they're simply not able to sustain.
Vanessa Weisbrod:
Yeah. And this has become such a big thing, especially in Massachusetts where meals have been free since the pandemic, and having access to safe meals at school has been a really huge help for families where money is an issue.
Mary Vargas:
That's right, and federal law doesn't say we can provide a benefit to some students and not to the students with disabilities. It says there has to be full and equal access. It says you can't provide lesser benefits to students because of their disability. And so where school districts or states are providing meals to students, they can't say legally, "We'll provide meals to students except those with celiac disease or food allergies."
Vanessa Weisbrod:
So we are so lucky that since Covid, meals in Massachusetts have been free, and hopefully by the time this podcast is airing, our governor will have signed the legislation making that permanent so that kids will always have access to free foods at school. Regardless of what the policy is regarding paying for meals or getting them for free, can a public school charge a family more for gluten-free meals for a child with celiac disease?
Mary Vargas:
Absolutely not. Federal law is crystal clear that you cannot impose surcharges on the basis of disability.
Vanessa Weisbrod:
Are schools required to implement basic measures to prevent gluten cross contact in the cafeteria?
Mary Vargas:
If there are students with celiac disease who have 504 plans and cannot be exposed to cross contact in the cafeteria, yes, school district would have to implement those kinds of basic protections.
Vanessa Weisbrod:
So let's talk about school trips like outdoor education and trips to New York City or Washington DC. Do schools need to accommodate the gluten-free diet for students during these types of activities or is it on the contractors who run the trips to accommodate?
Mary Vargas:
So under disability law, a school district can't contract out its responsibilities to ensure full, equal and safe access. So while a contractor, for example, a company that provides a school trip may have its own obligations not to discriminate, that does not alleviate the school district of responsibility to make sure that its students are free from discrimination in all of its activities, including field trips.
Vanessa Weisbrod:
So would the school then work with whoever is coordinating the trip to plan for the meals for the student, or who does that fall to?
Mary Vargas:
I'm not sure that there's necessarily a clear delineation of responsibility other than to say that the school is ultimately responsible for ensuring that they're not discriminating on the basis of disability. But in practicality, it often requires a joint effort of the school, the contractor, and the parent to discuss what kind of meals are being provided, to discuss what kind of dietary needs a student has, and then to figure out the best way to accommodate those needs.
Vanessa Weisbrod:
And probably ultimately some responsibility on the student themselves to understand their own needs and advocate for themself when they're away from their normal home base.
Mary Vargas:
In an age-appropriate way, yes. I see all too often that students who are placed in situations like this, though, go without eating rather than eat something that they don't have any way of verifying whether it's safe and rather than drawing attention to themselves by asking hard questions about whether a food is safe for them to eat.
So while a student certainly does need to advocate for themselves, that obligation remains squarely on the shoulders of the school. And where a student is opting not to eat because they don't have the information to know whether they can do so safely, that would concern me.
Vanessa Weisbrod:
Yeah, you bring up such a good point. I think about just my own nine-year-old son who has celiac disease and how many times he's told me he chose not to eat something because he was uncomfortable having that conversation or he didn't know who to ask to have that conversation. So it is definitely a burden.
Mary Vargas:
I see that with my own. I have three children, two of them have celiac disease, and I see that with them as well. One is in high school, one is in college. They both often opt to, I think their words would be not make a spectacle of themselves, something like that. It's a really hard thing to do in a school setting for a student to not only ask the questions, but to trust the answers.
Sometimes somebody who's not necessarily fully up to speed on cross contact or on what foods contain gluten is the only person the student has access to to ask a question, and the student may rightly recognize that the answer they give them is not one they can rely on. So it puts them in a position of sort of challenging authority in a way that is not always fair, I think, to expect of students.
Vanessa Weisbrod:
Absolutely. So what happens when things don't go well? How often do troubles actually result in legal action?
Mary Vargas:
They don't result in legal action that commonly. I would say everybody makes mistakes. Schools make mistakes. I would be prepared that there will be moments where a school district does not follow a 504 plan to the letter. And what I've seen works best is to, in a respectful way, call a meeting, call up and have a discussion and talk about those situations.
There should never be a situation where someone resorts immediately to legal action. You are developing a long-term relationship that's cooperative and respectful with a school district. If there has been a mistake made, there needs to be action taken to recognize where the mistake was and to fill in whatever gaps there were in the plan or in the teacher's or professional's understanding of how to implement the plan in order to make sure it doesn't happen again.
Where I see legal action is where typically, unfortunately, where there's repeated attempts by a family to ensure compliance with the law, and unfortunately, there are times when school districts repeatedly refuse to comply or repeatedly fail to comply in ways that are dangerous. And we've seen, unfortunately, you described the situation where people are rubbing bread on walls and doorknobs and other people. We've seen situations where teachers will initiate activities of throwing food products in the classroom.
Crazy things happen in schools these days, and where there's an ongoing pattern of refusal to do what's necessary to keep a student safe and included, that's where there tends to be legal action as a last resort.
Vanessa Weisbrod:
So we have hundreds of medical professionals who listen to our podcast. Can you talk to our listeners about how the medical community can support their patients with celiac disease at school?
Mary Vargas:
If there was one ask I would make of medical professionals, it's when you're asked to write a letter documenting disability and saying what accommodations a patient needs. For some reason, doctors, they're trying to be polite and deferential to educators. They often use language that says something like it would be helpful or it would be beneficial if my patient had whatever accommodation, if they had access to the bathroom, if absences were excused when they were caused by disability.
What we really need doctors to do is to say what's needed. It's not impolite to say a patient needs this accommodation. And so that change in language is really helpful to schools to understand what they need to do and that accommodations that are being requested, they're not just, gee, it would be nice. They're accommodations that are really needed for a student to be safe and included.
Vanessa Weisbrod:
So thank you Mary, so much for this great information. We're going to take a quick break and when we come back, we'll be discussing celiac and accommodations in the college environment as well as in the workplace.
We're going to take a quick break to hear from our podcast sponsor, the Global Autoimmune Institute.
Speaker 4:
The Global Autoimmune Institute works to empower solutions in the diagnosis and treatment of autoimmune diseases through research, education, and awareness while supporting multidisciplinary approaches to health. We are thrilled to support the production of this educational podcast.
Vanessa Weisbrod:
Welcome back. Let's dive into college life and beyond. So Mary, one of the biggest complaints we hear from our college-age patients is that they are required to purchase expensive meal plans, yet they have access to very limited gluten-free food choices. Tell our listeners about the meal plan cases at Lesley University and Rider University and how these cases have impacted how colleges must accommodate the gluten-free diet.
Mary Vargas:
So the United States Department of Justice got involved in looking at what obligations a college or university has with respect to a student who has special dietary restrictions in these two matters, Lesley University and Rider University. And these were settlement decisions between the United States and these universities that said you can't require a student with special dietary restrictions, whether because of celiac disease or food allergies, to purchase an expensive meal plan when they can't benefit from the meal plan in the same way that students without these disabilities can.
Now, at the time these settlements happened, colleges weren't doing a particularly good job in terms of serving students with medically necessary dietary restrictions. There has been enormous revolution in food service at college since these decisions, and I would say because of these decisions.
Because these decisions said that you can't require a student to buy into a meal plan, universities and food service companies started recognizing that they had a financial incentive to provide full and equal service to students with medically necessary dietary restrictions, or these students could opt out of the program and use their funds to purchase their own safe food.
There are universities and colleges now who do an extraordinarily good job in providing safe, healthy, nutritious food service to all of their students, including their students with disabilities related to diet. However, there are also still universities and colleges that do not adequately serve students with the result that students cannot be forced to buy into meal plans where they can't safely and equally partake in dining services.
Vanessa Weisbrod:
I actually met a young woman last week who was telling me about her experience with dining in college, and it took her quite a fight to get out of having to pay for the meal plan because there wasn't food available for her in the dining hall. But what she was the most upset about is that once they did refund her, she was no longer able to access the dining hall, so she couldn't go in and sit with her friends while they would eat. Her card was turned off to enter the facility altogether, and so she felt really isolated that she couldn't go and sit to eat with them. And she said that it took numerous calls from her doctor,
from her parents, to really advocate that she could just go in the building to be able to enjoy that social element of being with her peers while they ate, even though she wasn't eating with them.
Mary Vargas:
That's so critically important. It's not just eating that happens at a table. As we all know, whether we're in college talking about group projects or talking about social events or bonding or doing study sessions over meals, or whether we're adults working full-time jobs where we're having business lunches. So much happens around a meal that's not just eating.
And so disability discrimination requires full and equal access. So in the situation you described, certainly I would say it would be discriminatory to prohibit a student from access to a university space that other students have access to and not allow them equal participation in what happens in a dining hall regardless of the fact that they may or may not be able to eat.
There are other challenges when a student opts out of a dining plan, and this is something I unfortunately have personal experience with. I have a college-age student with celiac disease, a dining service that was not able to safely meet his needs in terms of eating. All kinds of issues arise in terms of, where's the student going to cook food? Where's the student going to keep their pots and pans and utensils? Where's the food going to be stored? Do they have access to a refrigerator and a freezer of adequate size and space? Do they have access to food?
There are so many issues, practical issues that come up that it's not simply a matter of we can allow you to opt out of the meal plan and we don't have to do anything else. That's not the case. If a student opts out of a meal plan, it's because they don't have the ability to safely eat with a meal plan. It's not an ideal situation for most students to have to be able to prepare their own food, and it's important to look at making sure that they can do so in a way that doesn't take away from their studies and doesn't unduly burden them.
Vanessa Weisbrod:
As you're describing this, I'm thinking back to my college days. I was diagnosed as a senior in college, and thankfully I lived in an apartment off-campus and I had a grocery store two blocks away, which made my life very easy. But if I had been diagnosed during my freshman or sophomore years where I was in a small dorm with no kitchen, it's giving me anxiety just to think about how I would've managed it.
Mary Vargas:
So my son was in a small dorm with no kitchen facilities, a college-size, dorm-size refrigerator with essentially no freezer, and he was in a part of the country where it regularly gets to 25 below zero. So he was carrying his pots and pans to a kitchen across campus and going to the grocery store every day because he couldn't store food.
That's an area where doctors can really help in terms of providing documentation instead of simply saying, "This is a student who needs accommodation because of celiac disease, this is a student who cannot safely eat on the meal plan," this is a situation where a doctor could really talk to their patient about what's hard about doing this.
And in our case, we were able to provide documentation of saying, my son couldn't store food in a college-sized mini fridge. He was carrying his food across campus. It was not sustainable, and he was losing weight as a result, he was losing study time. And so his doctor, his specialist, was wonderful and was able to have a more robust conversation with him about these concrete examples of where he
needed accommodation and then was able to put that in the documentation so the college could understand what it really means to not have access to a kitchen or a meal plan when you're in college.
Vanessa Weisbrod:
Right. So where is your son now? How is he functioning or how will he be functioning in the fall?
Mary Vargas:
So after a year dragging his pots and pans across campus from a dorm fridge to a shared kitchen across campus, his wonderful specialist had that conversation documented in concrete ways that not only did he need to opt out of the meal plan, he needed a full-size fridge with a freezer. He needed a place to store his food, to store his utensils, and he needed access to prepare those meals that didn't take away from his educational experience by having to go shopping every day, by having to sit in a shared kitchen for hours without being able to study while his food was cooking.
And based on that documentation, his college disability services allowed him access to live in a town home with a kitchen, which is the most enormous relief for him to actually just be able to cook and eat food. Without that kitchen, he was not eating. He was eating maybe a meal a day at best, and he was losing a lot of weight. That's not sustainable, that's not equal access. And with the right documentation, he was able to get an experience that will hopefully be much more like the experience that students without celiac disease have.
Vanessa Weisbrod:
Wow. Well, I'm glad to hear that he will have a better living situation for next year. It normalizes it that even someone like you who's so well versed in these areas can experience these hardships like all the other parents out there with kids with celiac disease.
Mary Vargas:
It was eye-opening to me to be the parent in this situation, and there were all kinds of barriers that I encountered, practical barriers that will forever change how I advocate for clients. Things like when my student was needing emergency care and had no access to safe food, a school not wanting to talk to me about my child's accommodation needs. When I'm contacting a school as a lawyer, I get a very different response. But when you're the parent, sometimes schools put up barriers to communicating and advocating for a student that have very significant practical consequences.
Vanessa Weisbrod:
Absolutely. So does the 504 plan transfer to the college setting, or is it a different type of plan?
Mary Vargas:
So yes and no. So 504 plan, that terminology is really only used K through 12. That terminology is typically not used in colleges. However, 504 plan, that terminology comes from section 504 of the Rehabilitation Act, which is the federal law that says anyone who receives federal financial assistance can't discriminate on the basis of disability.
That law applies K through 12. It applies equally in colleges and universities, which really all accept federal funding. They cannot discriminate on the basis of disabilities. They also have obligations under the Americans with Disabilities Act not to discriminate. So while it may not be called a 504 plan, the obligations to ensure access to make accommodations or modifications, those remain.
Vanessa Weisbrod:
Do all colleges and universities have to accommodate celiac disease and does it matter if it's a private university or a state school?
Mary Vargas:
All colleges and universities have to make accommodations for students with celiac disease. I have never seen a college or university that would be exempt from that obligation, because all colleges and universities take federal funding in terms of student loans and things like that, and typically other kinds of federal funding related to research and other things. And because the Americans with Disabilities Act applies to both public and private colleges and universities. So between those two laws, every college or university will have to make accommodations for students with disabilities.
Vanessa Weisbrod:
So we typically advise college students to work with their Office of Disability Services to get a plan set up. What are some key resources students can use if their university team is not supportive of accommodations for celiac disease?
Mary Vargas:
So this is a challenge, and where universities are not supportive of accommodations for celiac, it often comes from a place of not having done it before. So we see that students have to be very proactive in sending emails, documenting repeated requests for accommodations, explaining what they need in terms of housing, in terms of meal plans, and having dialogue with disability services offices.
I have seen, every fall particularly, college students who do a great job advocating for themselves, but who unfortunately sometimes are stonewalled and despite their advocacy, are not given the accommodations they need in a timely manner. When that happens, when the requests have been documented by email or otherwise in writing, it's important for a student to know when to get support, whether from a parent or a doctor or another loved one to support and scaffold their requests for accommodation. And when that doesn't work, to go higher up in the university chain of command, whether it's to deans of students, president of the university, or all of the above to make it clear that there is a legal obligation that's not being met.
Unfortunately, sometimes that still doesn't work, and that's when students need to seek legal counsel in order to make sure they get the accommodations that they need.
Vanessa Weisbrod:
How hard should a student push for accommodations before they come to a lawyer for support, and how often do cases like Rider and Lesley come up or it ends with an actual case?
Mary Vargas:
So unfortunately, I'm seeing students have to advocate for themselves a lot harder than I think they should, particularly students with celiac disease. I think universities are doing a better job with food allergies than they are with celiac disease as a general statement.
Typically, students don't need to resort to litigation, but they do often have to be incredibly persistent and go up the chain of command to clearly state what their medical need is, to clearly state what their accommodation need is and to make sure that that accommodation request is granted. I don't ever
mind talking to students who are struggling in advocating for themselves, and there are resources that are available to students to have those kind of conversations.
Short of retaining an attorney to represent them and write letters or litigate, often attorneys can provide support that's short of that. It is unusual to have to litigate against a university. But I would also say that part of the reason that students aren't litigating against universities is it's very challenging for students to find attorneys and to afford attorneys to represent them.
Vanessa Weisbrod:
Absolutely. So let's shift to graduating from college and getting a job. Do all of these laws we've discussed apply in the work setting?
Mary Vargas:
So in the work setting, typically we're talking about Title One of the Americans with Disabilities Act, which applies to employers and requires employers to make accommodations not only in the interview process, but in terms of employment. And accommodations you might see, typically celiac disease doesn't have accommodations so much that are necessary in the interview process, although it is possible for those kinds of needs to occur.
More commonly, you see it where somebody needs to be able to take a break. For example, somebody who works at a grocery store at a cash register, they might need to take an unscheduled bathroom break if they're having symptoms flare. They might have days when they're out that would not require a letter from a doctor. It's really a symptom of a known disability that they were exposed to gluten and they became ill and were unable to go to work.
So there are those kinds of things. The other kinds of accommodations that we see in employment is around conferences and events that are related to employment that include meals, and there is a growing industry of event planning and conference planning that's really focusing on ensuring access for people with food allergies and celiac disease. That is a legal obligation. You can't have a conference where you send employees and they don't get to eat. They need to be able to safely eat, and in some cases, employers might have to provide them a comparable budget in order to purchase their own food where a meal that's being provided to other employees is simply not safe for them.
Vanessa Weisbrod:
What about with benefits? So we hear often that a company provides breakfast and lunch in the company cafeteria to employees, but there aren't gluten-free options. Is there an obligation to have a gluten-free option?
Mary Vargas:
I say that there is. You cannot discriminate on the basis of disability in all of the aspects of employment, including benefits such as free meals. If employees without disabilities have access to breakfast every day that's free, then employees with disabilities need to be provided that same access.
Vanessa Weisbrod:
I was on a recent trip and on the airplane I met a medical student, or a former medical student who's now in residency, and she had celiac disease, and she was telling me about how during her residency interviews, it was one of the most challenging times of her life because she was flying all over the country. She had more than 10 interviews at different medical centers around the country, and they
were bouncing between interviews all day long, and there were these very short windows of time when she had to eat and all the food was just brought to them in boxes.
But no one ever asked her if she had any food restrictions. And so she just didn't eat for these whole long days where she's expected to perform at her best and to impress the panel of people evaluating her for their programs. And so we had a really interesting conversation about how she regretted not telling them about her celiac disease during the process, but she also felt intimidated to tell them that she had special needs going into an interview.
Mary Vargas:
That's a really challenging situation, and it's very much a personal decision whether people decide to disclose their need for a special diet or not in the interview process. Particularly for medical residents, that's a very high pressure situation. It's very competitive. There is no obligation to disclose a disability unless and until you need accommodation.
And so lots of people don't want to disclose their disabilities for very good reason in the interview process, or for example, in the residency process. We spend a lot of time talking with clients about the pros and cons of when to disclose, and that's ultimately very much a personal decision. But if a person wants accommodation, they do need to ask.
There are reasons not to ask. Once that information is disclosed, you've given up your legal right not to disclose it, and people don't always want to share and are not required to share personal medical information unless they're seeking accommodation based on disability.
Vanessa Weisbrod:
That's a really, really good point. So thank you, Mary, so much for all of the wisdom that you have shared today. Now let's find out where Rachel and her family are today.
Speaker 2:
Rachel and her brother Aiden are now in middle school and are doing very well on the gluten-free diet. Rachel's once bloated belly is gone and her hair is full and healthy. Aiden's mouth has no more sores and their dad's headaches have disappeared. It took tons of advocating from their mom to get their initial 504 plans in place, but with the help of their GI social worker, they were able to get the school to agree to implement a 504 plan.
Rachel's mom describes a social worker who helped them as a saint with muscles of steel. The 504 plans include provisions for both children eating a safe gluten-free lunch at school, as well as materials in their classroom and an arrangement for their parents to be involved in the planning of any offsite activities or special events. These two 504 plans were the first their school district had issued for celiac disease, but are certainly not the last.
As a result of the difficulty she had with getting 504 plans set up, Rachel's mom has worked tirelessly with their school district's parent-teacher organization to organize regular events to raise awareness of chronic diseases in their school system and look for ways to include children with celiac disease, food allergies, diabetes, and asthma in all school-sponsored events.
Rachel now plays for her middle school soccer team, and Aiden is on the basketball team. They're both a part of their respective grade's student councils and have ensured that for the last two years that every baked sale and candy sale include gluten-free, allergen-free, and food free options so everyone could participate.
In her own words, Rachel says, "When I was diagnosed with celiac disease, I didn't realize how much advocating I would have to do. I'm so thankful my mom did such a great job with creating gluten-free options for us at home and in her restaurant, but I'm even more grateful that she has helped us be so included at school and learn how to stand up for ourselves. I know it's the best life lesson."
Vanessa Weisbrod:
Thanks for listening to this episode of Raising Celiac. A special thanks to the generous contribution from the Global Autoimmune Institute to make this podcast possible. A reminder to all physicians, nurses, social workers, dieticians, and psychologists. To claim your continuing education credits for listening to today's episode, please visit DME.childrenshospital.org/raisingceliac and complete the short survey attached to this episode. If you like what you heard, be sure to write a review, like and subscribe wherever you get your podcasts. For more information, check us out on social at Boston Children's Celiac on TikTok, at Children's Celiac on Twitter, or at Celiac Kids Connection on Instagram. Have a great month.