Episode 6: Crossroads of Dermatitis Herpetiformis and Celiac
Get Started
This course is currently closed
Course Credit
The following credits are available for this course:
| | |
| --- | --- |
| AMA PRA Category 1 Credits™ (MD, DO, NP, PA) | 0.75 hours |
| ASWB ACE Continuing Education Credits (Social Worker) | 0.75 hours |
| Contact Hours (Nurse) | 0.75 hours |
| CDR CPEUs (Registered Dietitian) | 0.75 hours |
(Note: a course evaluation is required to receive credit for this course.)
Vanessa Weisbrod
Director, Celiac Disease Program
Janis Arnold, MSW, LICSW
Clinical Social Worker, Division of Gastroenterology, Hepatology, and Nutrition
Shadi Kourosh, MD, MPH
Board-certified Dermatologist at Mass General Hospital
Assistant Professor of Dermatology at Harvard Medical School
In this episode, Dr. Shadi Kourosh describes the relationship between celiac disease and dermatitis herpetiformis. Furthermore, Dr. Kourosh explains the best practices for diagnosing celiac disease in patients with dermatitis herpetiformis. Dr. Kourosh also identifies treatment options beyond the gluten-free diet for patients with a dual diagnosis of celiac disease and dermatitis herpetiformis.
Learning Objectives:
At the conclusion of this educational program, learners will be able to:
Describe the relationship between celiac disease and dermatitis herpetiformis
Explain the best practices for diagnosing celiac disease in patients with dermatitis herpetiformis
Identify treatment options beyond the gluten-free diet for patients with a dual diagnosis of celiac disease and dermatitis herpetiformis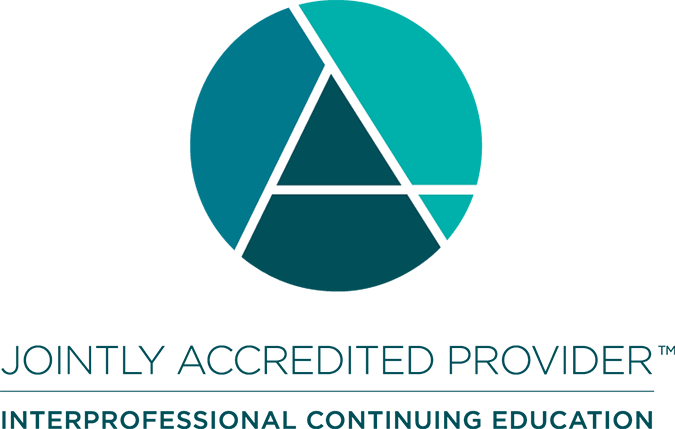 In support of improving patient care, Boston Children's Hospital is jointly accredited by the Accreditation Council for Continuing Medical Education (ACCME), the Accreditation Council for Pharmacy Education (ACPE), and the American Nurses Credentialing Center (ANCC), to provide continuing education for the healthcare team.
Physicians
Boston Children's Hospital designates this live activity for a maximum of 0.75 AMA PRA Category 1 Credits ™. Physicians should claim only credit commensurate with the extent of their participation in this activity.
Nurse
Boston Children's Hospital designates this activity for 0.75 contact hours for nurses. Nurses should only claim credit commensurate with the extent of their participation in the activity.
Social Work
As a Jointly Accredited Organization, Boston Children's Hospital is approved to offer social work continuing education by the Association of Social Work Boards (ASWB) Approved Continuing Education (ACE) program. Organizations, not individual courses, are approved under this program. State and provincial regulatory boards have the final authority to determine whether an individual course may be accepted for continuing education credit. Boston Children's Hospital maintains responsibility for this course. Social
workers completing this course receive 0.75 ACE CE continuing education credits.
Dietician
Boston Children's Hospital designates this activity for 0.75 contact hours for dieticians. Dieticians should only claim credit commensurate with the extent of their participation in the activity.
Disclosures
Boston Children's Hospital adheres to all ACCME Essential Areas, Standards, and Policies. It is Boston Children's policy that those who have influenced the content of a CME activity (e.g. planners, faculty, authors, reviewers and others) disclose all relevant financial relationships with commercial entities so that Boston Children's may identify and resolve any conflicts of interest prior to the activity. These disclosures will be provided in the activity materials along with disclosure of any commercial support received for the activity. Additionally, faculty members have been instructed to disclose any limitations of data and unlabeled or investigational uses of products during their presentations.
The following planners, speakers, and content reviewers, on behalf of themselves, have reported the following relevant financial relationships with any entity producing, marketing, reselling, or distributing health care goods or services consumed by, or used on patients:
Please see the FAQs below for common questions about how to work through a course. If you have a question or issue that is not addressed in the FAQ, please use this form to submit a help request, or if your issue is urgent, call the CME office at: 617-919-9908.
How do navigate this course?
How do I navigate this course?

There are two ways to access and navigate course content with the interactive table of contents: at the bottom of the main course page or in the sidebar on the right side of the page. Select the links in the table of contents to access the corresponding content. Depending on the course, access to content may be linear, in which case each content module or section can only be accessed if the prior ones are completed, or non-linear, in which case modules and sections can be accessed in any order. Use the breadcrumbs at the top of any course page to orient yourself within a course, or return to a previous course section or the main course page.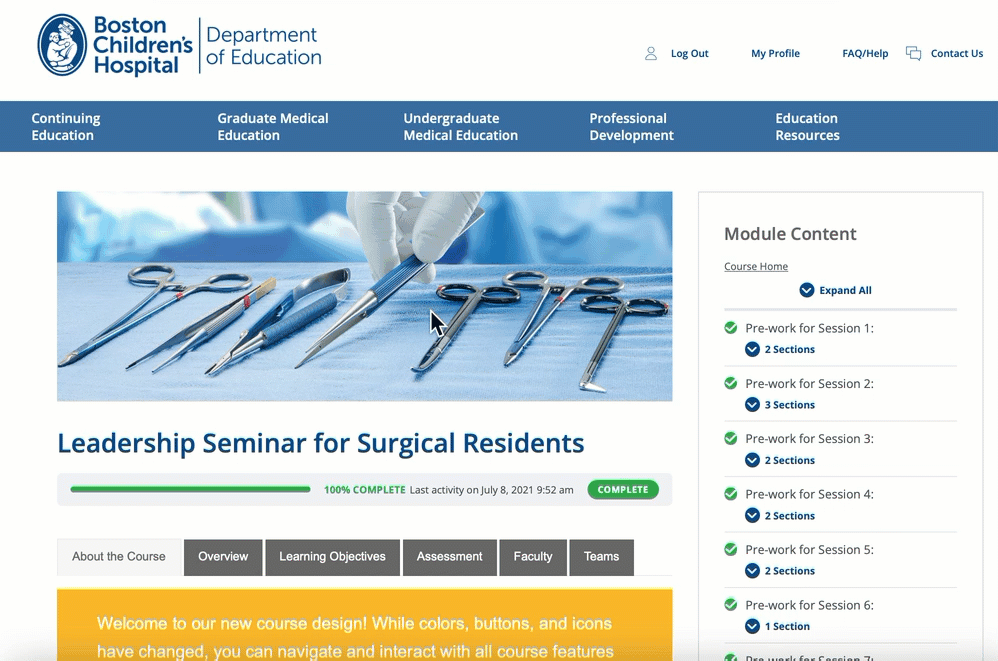 How do I claim credit for this course?
How do I claim credit?

If the course has been accredited, available credits will be displayed on the course home page. Select only those credits that apply to your profession, and click/tap "Apply Selection." You may make your selection at any point while you are taking the course, or after you have completed it.
How do I download a certificate?
How do I download a certificate?

There are two ways to view/download your certificate: from within the course or from the course listing under your profile (select the document icon). In either case, you must have selected at least one available course credit type to generate a certificate.
How do I view/print my transcript?
How do I view/print my transcript?

You must be logged in to view your transcript. Select My Profile at the top of the page. If you do not see the transcript selector, be sure the Courses tab is selected. Select the type of credit and dates to include in your credit report. To include all credits from all time, leave the options blank. Select Download Transcript to view/download your transcript. Note each credit type in your transcripts starts a new page.
How do I request a refund?
How do I request a refund?

Please email the CME Department to request a refund.
Click Here to View Transcript
Vanessa Weisbrod:
Welcome to Raising Celiac, a podcast dedicated to raising the standard of education, awareness, and research on celiac disease and related autoimmune conditions. I'm Vanessa Vanessa Weisbrod, the education director of the Celiac Program at Boston Children's Hospital. At each month on the podcast, we will invite leading experts to dive into a condition related to Celiac and look at how it impacts a patient family, the latest research and offers suggestions for health providers to manage these complex cases. Every episode of the Raising Celiac podcast is accredited by the Boston Children's Hospital Continuing Education Department for 0.5 AMA PRA category one credits for physicians, 0.5 contact hours for nurses, 0.5, ACE, CE continuing education credits for social workers and 0.5 CEUs for registered dieticians.
To claim your credits for listening to today's episode, please visit dme.childrenshospital.org/raisingceliac. Let's get started with this month's Raising Celiac patient story.
Janis Arnold:
Molly had a wonderful childhood. Her family lived on a quiet cul-de-sac with lots of other families with kids. She spent her afternoons with friends, riding her bike, playing soccer and swimming on her town swim team. Health-wise, she had a very simple history, the annual common cold that went around her classroom and the occasional case of strep throat. Her mom would call her the "Remarkably healthy child." Her younger brother had been diagnosed with celiac disease at the age of eight, so he was the one who typically got the attention with health stuff. It wasn't until Molly's first year of college that things started seeming a little bit off. Molly worked tirelessly in high school to become a competitive swimmer and was recruited to swim on her university swim team.
She dreamed of going to the Olympics one day and winning a medal for teen USA in the women's 400-meter freestyle race. Shortly after she started practicing with her college swim team, she noticed herself itching every single day. At first, she thought it was from a different type of chlorine used in the training pool. She used over-the-counter anti-itch creams and moisturizers and pressed on for months until she just couldn't take it anymore.
Vanessa Weisbrod:
Dermatitis herpetiformis is an intensely itchy skin condition caused by a reaction to gluten ingestion. Most patients with dermatitis herpetiformis, called DH for short also have celiac disease. With DH, extremely itchy bumps or blisters can appear on both sides of the body, most often on the forearms near the elbows, as well as on knees and buttocks and along the hairline. DH is diagnosed via a skin punch biopsy, but it often takes finding a physician who recognizes the condition to get the right tests done. A blood test and endoscopy for celiac disease may also be performed. Though the reliability of these tests in patients with DH is questionable.
Janis Arnold:
Now experiencing severe discomfort, Molly went to the university health center and was diagnosed with eczema. She was prescribed a cream to put on her skin each night. It helped a little bit, but she found herself losing focus in her classes and feeling as though she couldn't keep up with the demands of competitive college swimming. Molly now had extremely itchy bumps and blisters lining in both elbows and knees, and along her hairline. It was starting to get embarrassing. She no longer wanted her body exposed at swim practice, and she felt self-conscious participating in the typical college social life with the rash inching down along her forehead. She knew she needed a doctor. So, she gave in and called her mom to ask for help. Up until now, she didn't want to worry her parents with the rash, but it was time to get some help.
Molly's mom sprang into action by calling their pediatrician to ask for a recommendation for a dermatologist near her university. Thankfully, she went to a school affiliated with a large teaching hospital and was able to get an appointment just a week later.
Vanessa Weisbrod:
DH bumps and blisters resemble herpes lesions, hence the name herpetiformis, but are not actually caused by the herpes virus. DH is caused by a sensitivity or intolerance to gluten, the protein found in wheat, rye and barley. When a patient with DH eats foods with gluten, it triggers an immune reaction causing IgA antibodies to be deposited in the skin. Oddly enough, DH patients sometimes have a normal intestinal biopsy and normal celiac blood test, but will still respond to a gluten-free diet. About 15% of people with celiac disease also have DH. Though this population tends to not experience the more classic gastrointestinal symptoms like diarrhea, vomiting and bloating. DH can appear at any age in life, though it's most commonly diagnosed between the ages of 30 and 40 years old.
Janis Arnold:
Molly's mom drove up to meet her for the appointment with the dermatologist. While the physician was taking down Molly's medical history, she asked about any conditions her family may have, including gastrointestinal diseases. When she mentioned that her brother had celiac disease, a light bulb went on for the dermatologist and things started moving very quickly. That same day, she had a skin biopsy as well as blood work, and a few days later her doctor called to confirm the suspected diagnosis of dermatitis herpetiformis, and celiac disease. Both the skin biopsy and tissue transglutaminase antibody tests were positive.
Vanessa Weisbrod:
The treatment for DH and celiac disease is the same, a strict lifelong gluten-free diet. However, for patients with severe cases of DH, the drug Dapsone may be used to suppress the skin response and quickly improve symptoms. It can work in just a few days.
Janis Arnold:
Molly's rash was quite severe, so she started Dapsone and began the journey of converting to a gluten-free diet. She started feeling better quite quickly and within about two weeks felt like she was getting back to her normal routine. The Dapsone rapidly helped her rash disappear, but getting onto a strict gluten-free diet was a struggle. She was 18 years old, living in a shared dorm room, trying to came up with a competitive sports schedule and struggled to find the right resources on campus to get gluten-free food. Her younger brother had celiac disease, but there was an eight-year age gap between them. So by the time he was on a gluten-free diet, it was almost time for Molly to head off to college. She admits she barely paid attention to the gluten-free diet for her little brother because her mom just took care of it. Molly did her best with her new diagnosis, but her gluten-free diet was far from free of all gluten.
Vanessa Weisbrod:
Oftentimes, a positive skin biopsy and a positive antibody test for celiac disease is where the medical diagnosis journey ends for a patient living with both DH and celiac. Because the diagnosis is clear and an endoscopy isn't always deemed necessary, sometimes these patients are not referred to see a gastroenterologist who specializes in celiac disease. This means the patients may not get a referral to a skilled dietician and other valuable resources for navigating the gluten-free diet. This is exactly what happened to Molly. So how does a patient with celiac disease and DH manage the gluten-free diet at home, at school and on the go? Does touching gluten cause their rash to come back? If they don't have GI symptoms, how strict of a gluten-free diet do they need to be on? Does it make a difference if they have a small bowel biopsy or not?
We'll discuss this and more on today's episode of Raising Celiac. Today we talked about celiac disease and dermatitis herpetiformis with Dr. Shadi Kourosh, a board certified dermatologist at Mass General Hospital and assistant professor of dermatology at Harvard Medical School. Then we'll be joined by Janice Arnold, a clinical social worker at Boston Children's Hospital to talk about setting up resources for managing the gluten-free diet in colleges. Welcome you both to raising Celiac. So Dr. Kourosh, let's start with you. The majority of patients with DH also have celiac disease. Is DH a manifestation of celiac or its own condition?
Dr. Shadi Kourosh:
I think it's a good idea to think of dermatitis herpetiformis or DH as a manifestation of celiac because there's really a relationship between the gut and the skin as we see in a variety of conditions. And some people have celiac as we know, and they may not have any skin manifestations, but pretty much everyone that has dermatitis herpetiformis has gluten sensitivity.
Vanessa Weisbrod:
Absolutely, so why does some patients with DH have negative tTg-IgA antibody tests and normal intestinal biopsies?
Dr. Shadi Kourosh:
That's a great question, Vanessa, and it's a question that patients ask all the time and it's a very good one, and the answer is that antibodies can wax and wane in a person's body. So it's really a question of perfect timing to get the testing at that perfect snapshot in time when the antibodies are triggered. So for example, if a person has been on a gluten-free diet for a long period of time, you're probably going to have a hard time finding any antibodies. It really has to be triggered by gluten or something like that in the system for a person to have a good chance of catching it on an antibody test.
Vanessa Weisbrod:
Do we have any understanding of what comes first, celiac disease or DH?
Dr. Shadi Kourosh:
Well, because we think of DH really on a spectrum of celiac disease, I think it's helpful to think of everybody that has DH as having this underlying gluten sensitivity, which we find that people may have for years sometimes before they're diagnosed. It could be that it hasn't been as severe. So a lot of people we find fly under the radar with their condition for years just feeling less healthy when they have gluten but not having really obvious symptoms. And then, there comes a point in time where the symptoms or whether that's skin manifestations or symptoms that they're having in their gut become more obvious, which prompts people to go and see the doctor and hopefully then, get diagnosed.
Vanessa Weisbrod:
How does an autoimmune disease that causes damage to the small intestine show up on your skin?
Dr. Shadi Kourosh:
Well, first, I will say that dermatitis herpetiformis or DH is not the only skin condition that is triggered by factors in the gut. And I think that we are learning more and more about that gut skin relationship, but in the case of DH, I'll just explain at a very sort of brief high level that certain antibodies are made in the body by the immune system when a person is exposed to gluten who has this sensitivity, and then those antibodies circulate in the blood, and then, there are little tiny blood vessels in the skin where sometimes those antibodies deposit in the skin or they kind of get stuck from those little tiny blood vessels that are depositing them in the skin.
Then, those antibodies cause an immune reaction when they get deposited in the skin, which manifests as the skin signs of dermatitis herpetiformis, which for anyone that's seen it in real life or seen photos of it, looks like little tiny bumps on the elbows, knees, back, sometimes the buttock. We call this in medicine, the extensor surfaces of the skin, so the elbow side of the arms or on the knees, the part of the arm or leg that extends the limb rather than flexes it. So there are certain skin conditions that present on the flexor surface of the skin, but dermatitis herpetiformis classically presents on the other side, on the extensor surface of the skin. So knees, elbows, back, sometimes buttock and there are itchy bumps and in some people, they can be very itchy. So we really have to give them medicine to help control their inflammation and itching of their skin when that happens.
Vanessa Weisbrod:
So tell us about the punch biopsy used to diagnose DH. What are the best practices for selecting the spot to biopsy?
Dr. Shadi Kourosh:
Yeah, I mean that's a great question and that can be a challenge to really get it perfect in real life because as I mentioned, this is a condition, dermatitis herpetiformis that waxes and wanes, right? So it waxes and wanes on the skin as it is waxing and waning sometimes in the blood. Now, sometimes it stays on the skin much longer. So sometimes there's an initial trigger in the blood than it stays on the skin much longer, but the trouble is the antibodies can kind of wax and wane, and so it's important if a person has skin findings that they are concerned might be dermatitis herpetiformis or DH, to go to the doctor promptly, to go to the dermatologist promptly and have a biopsy, because our best chance of really getting a slam dunk diagnosis is to biopsy the skin lesions when they're fresh, as soon as possible.
You want to find the newest spots if possible because those are the more likely ones to have the classic signs in the biopsy of the certain pattern of inflammation and antibodies that would help us make the diagnosis. Generally, two small punch biopsies, so these are little four millimeter circular blades that take a little hole punch, size of a hole punch, piece of skin for the biopsy. So this is … honestly, it's smaller than the size of a pencil eraser each one. So it's not a lot of skin, but it's important that we get a good sample and that we actually get two. The reason is because one of these samples is set for normal standard pathology where the pathologist will just look at the pattern of inflammation, immune cells, things like that under the skin.
Then, the second one is sent for something called immunofluorescence, where there are special stains that are done for the specific antibodies of DH. So really having both of those biopsies can be really important in getting the diagnosis right.
Vanessa Weisbrod:
Great. So Can you talk to our listeners about the treatment options for DH? Is the gluten-free diet required or can it be treated with medication alone?
Dr. Shadi Kourosh:
Well, I would say the first intervention and really the gold standard is a gluten-free diet, because we do have medications and we can give people medications, but if a person is still exposing their body to the trigger that causes this problem, we're really just chasing our tail and it's really hard to make people better without the elimination of gluten. From my friends who are GI doctors, who are really experts on celiac disease, I've learned a lot about really doing a gluten-free diet successfully, and it can be very challenging. I mean, there are things that were really news to me that contain gluten, like certain medications, certain vitamins, supplements have gluten in them. So things that I didn't necessarily know, things that contain gluten, but the idea is doing it well, is actually pretty difficult.
I've learned about websites and resources that I share with my patients, like there is a website called www.glutenfreedrugs.com. There's another one that's a database to search for ingredients that is medlineplus.gov/druginformation.html. Also, the National Psoriasis Foundation can be really helpful because there is a variant of psoriasis … as I mentioned, there's other conditions that have a gut skin connection and there's a variant of psoriasis, another skin condition that is actually gluten sensitive. So there is a percentage of people that have this other skin condition psoriasis that actually get better if they follow a gluten-free diet. So we're learning a lot more about this in dermatology, but I really think that the first step and the first pillar of treatment is avoidance of triggers.
I mean, and this is an important concept for many conditions, that to first identify the causes and do our best to avoid them. Then, once we really understand that and commit ourselves to that, then we see how severe is a person's condition once they've eliminated gluten. Some folks have a really severe case and even after following a gluten-free diet as best as they can, they still require medicine. There are a variety of medicines, the most classic and traditional treatment for dermatitis herpetiformis that has been around for decades and can be very effective is a medication called Dapsone. That is an antibiotic, as I mentioned, that's been around for many years and it can be very helpful and effective. However, a person needs to get lab tests when they're on Dapsone because it can have certain possible side effects in the body.
So it's really important to establish care with a doctor such as a dermatologist, if a person has this condition and they need medication therapy because they may need lab monitoring for certain medicines, and Dapsone is one of those medicines that requires regular checkups and lab monitoring. Then, there's also topical therapies for people that are less severe, such as topical steroids, cortisone, but also stronger versions of that that are prescription strength, topical steroids. Those can really help with itching and the skin lesions. Then, there are other systemic therapies as well, but those would really need to be discussed in consultation with a specialist.
Vanessa Weisbrod:
So if they're following a gluten-free diet strictly, about how long would it take before they could expect to see their rashes getting better?
Dr. Shadi Kourosh:
I found that to be really variable between patients in real life, in terms of once they have a flare because they maybe were exposed to gluten, how long it takes, whether it takes weeks or over a month, it really depends on how severe of a case the person has themselves and also, how quickly medicine is started. So if they have a good medication regimen, systemic or even topical medicines like topical steroids, they can help that flare get better much faster. I also think that if a person's been following a really good regimen of eliminating gluten from all these different aspects of their life, which as we discussed could be tricky because sometimes it's hidden in things like medicines or vitamin supplements or soy sauce or things that we might not expect, but if a person has done a really good job of eliminating the gluten trigger from all these different aspects of their environment, I find that they tend to have less flares overall.
Vanessa Weisbrod:
So we're talking about flares. Will every single exposure with gluten lead to a flare of DH, like somebody who has GI symptoms might vomit or have diarrhea after being exposed to gluten?
Dr. Shadi Kourosh:
Again, Vanessa, I feel like this is … in my experience, this has been really individual between patients. There are some people that they might be exposed to a little bit of gluten and nothing bad may happen, and it may take a larger exposure to actually trigger a flare in them, and there are some people that even a small amount can cause them to have symptoms, whether that's gut symptoms or skin symptoms. So I think that for each individual person that's dealing with this condition, it's really about learning their body and what it can tolerate.
Vanessa Weisbrod:
Is touching gluten a problem for patients with DH?
Dr. Shadi Kourosh:
That's a really good question, and I think that there is research that's being done into that, but I'm not sure that it's a trigger for everyone. Certainly, there is a relationship between gut allergies and skin allergies, so I wouldn't be surprised if there are some people that might need to be sensitive to that, and I've heard of certain skincare products having to be gluten-free because of that.
Vanessa Weisbrod:
What is the proper routine medical care for a patient with celiac disease and DH? Should they regularly see a dermatologist, gastroenterologist and a dietician or just one of them?
Dr. Shadi Kourosh:
I think that the most important doctor for a patient with celiac disease is their GI doctor. And I'm fortunate here at Massachusetts General Hospital to have really wonderful colleagues in the gastroenterology department who are experts in celiac disease and we work together. Some of them are experts in other gut conditions, as I mentioned, conditions of the intestines, that also cause skin problems. So I think that that relationship of teamwork between these specialists is very important. I think that the first step is really establishing care with a gastroenterologist because that person is going to be really important in making the diagnosis, which as we discussed earlier, can be tricky because the antibodies go up and down, they wax and wane in the body.
So they may not always be present. So I've seen people with celiac disease actually take months or years to really get an official diagnosis because they've established care. Sometimes it takes some time to find the right doctor and then, even when they establish care with the right doctor, it can take time for all the timing to line up for the test to be done at the right time when we can find the antibodies. I think that the gastroenterologist and really finding one who is an expert, like we have a wonderful one at Massachusetts General Hospital. Her name is Dr. Maureen Leonard and I have shared patients with her and learned a lot from her, she's a real expert. She has helped a lot of people get diagnosed and a lot of education around this condition for patients and even for her colleagues like me. So I think that that relationship is really, really important, really the first step.
Then oftentimes, these gastroenterologists, when people come to them and figure out their diagnosis and realize that they have celiac disease, then if they have skin symptoms, then they usually establish care with a dermatologist. So that's often the way it goes, but in some cases it has gone in the opposite direction where a patient has come in to a dermatology clinic like mine with a rash and the person may not have any idea what's causing their rash. They just say, "I have this itchy rash often on the elbows, knees or back." And the dermatologist recognizes this pattern and says, "Well, there's something that this could be, and it could be related to gluten sensitivity. Let's do a biopsy." And then sometimes the biopsy is what helps make the diagnosis and then, the dermatologist refers the patient to a gastroenterologist, a GI doctor.
So it definitely has gone both ways, but the thing is not everybody that has celiac disease has skin findings. So that can be tricky too, and this is why a lot of these folks sometimes go for years with just these non-specific or kind of vague symptoms in their intestines, like discomfort or difficulty with digestion, and they may not know what they have. So I really encourage people that if they are having these gut symptoms and they're not sure what's wrong, to go ahead and see a gastroenterologist because these specialists can really be game changers for a lot of people in figuring out what's wrong.
Vanessa Weisbrod:
Absolutely, and I'm really happy to hear about your strong feelings on this. I think that a lot of times patients don't get that referral, and that was what happened to our patient that we talked about in our story today. Molly didn't get to the gastroenterologist or to see the dietician, and I think that really led to her struggling to get situated with the gluten-free diet. So how common is it do you think for dermatologists to make that referral to the gastroenterologist or subsequently to a dietician for help with the gluten-free diet?
Dr. Shadi Kourosh:
Gosh. Well, I do it for every single person. If they don't already have that care, because as I mentioned, I think the gastroenterologist is really, really critical to help manage that disease because I really think that they're the quarterback in managing the disease overall. I mean, I think dermatologists, we are often helpful to other specialties because let's say the diseases and conditions of many organ systems actually manifest on the skin. So sometimes people will come in with a rash and a dermatologist will say, "This is actually a manifestation of something that's going on in your gut or something that's going on in your liver or your kidneys or your blood." So dermatologists are often helpful in making that diagnosis, but because I think that this fundamentally comes from an internal condition, I think that GI doctor is really critical.
I think the dietician is a wonderful addition because as we discussed earlier, it's really hard to do a great job at following a gluten-free diet. So even I as a specialist that's made the diagnosis of the disease have really been surprised and had these eye-opening moments about all the places where gluten is hidden in foods and medicines and supplements. So I think having an expert like a dietician really sits someone down at the beginning and educate them, could be so helpful in how they manage their disease.
Vanessa Weisbrod:
Absolutely, so do you have opinions on whether or not these patients with celiac and DH should get the small intestine biopsy if they've already had a positive tTg antibody and the positive skin punch biopsy?
Dr. Shadi Kourosh:
I think that's really a question for the GI doctor. This is where, as a dermatologist, I really trust and rely on my good colleagues in an interdisciplinary team of care. So I think it would be great to ask a GI doctor that question because to me, if a person is diagnosed, then from my standpoint, I've helped them sort of reach an answer and then, I just focus on managing their skin and then I send them to the GI doctor for sorting out everything else that's going on the inside of their body.
Vanessa Weisbrod:
So we know that there's a genetic component to celiac disease and then, it can be passed through families. Is there a risk of DH being passed from a parent to a child?
Dr. Shadi Kourosh:
Yes. I mean, it's not necessarily a very clear prediction of whether it will be or not. It's not one of these things where if one of your parents has it, then you'll definitely have it as well. We know that there are certain genes as you mentioned, that are associated with it, and it's estimated that about 10 to 15% of people that have dermatitis herpetiformis have a first degree relative that has it as well. There's certain genes where it's estimated that like 90% of people that have celiac disease have a certain gene, which is the HLA DQ2 and then, there's another one that's DQ8 that's less common. So there are genes that have been identified that are predictive. It has been seen in some people that if they have a first degree relative, but that's not 100% prediction. So what we generally counsel people is if they have it or if someone in their family, a first degree relative has it, then there's a chance that they'll have it.
Then, what that means effectively is that they should just be on the lookout and they should monitor themselves for, if they're exposed to gluten, if they have symptoms in their gut or in their skin. If that happens, then they should be checked, but it's definitely not a given. So I mean, some people may have a first degree relative and go on with their life and have nothing happen and be totally fine. So I think it's more of an indicator if that family history or that genetics is there to just keep a closer watch on a person.
Vanessa Weisbrod:
So as we heard from our patient, Molly, her quality of life in college was severely impacted by having the DH rush. She was so concerned about her appearance and felt very self-conscious. How do you address these issues with patients in your clinic?
Dr. Shadi Kourosh:
I think that's a really great question, and I think that that's where a multidisciplinary team is really important, like here where I practice at Massachusetts General Hospital, I have wonderful colleagues in the psychiatry department and in some cases, we've even written books for patients that have skin diseases to live successfully with their skin disease, and we talk about that mind-body balance and we talk about the psychological and mental health aspects of living with the skin disease, and I think that that's super important. So making sure that people feel comfortable, seeking out mental health services, emotional support of various kinds, and for me as a doctor, working to destigmatize that and normalize that and help people understand that it's perfectly normal to have a therapist and it can be a really great and life-changing aspect of someone's life to have a therapist.
So I try to really normalize that and encourage that because I think that there are people also in the psychiatry and psychology community that are experts in this, in helping people live with certain chronic conditions, and I think they can be great.
Vanessa Weisbrod:
Well, thank you Dr. Kourosh so much for all of this wonderful information. We're going to take a quick break and when we come back, we'll have our Boston Children's Hospital social worker, Janis Arnold, here to talk to us about setting up accommodations for the gluten-free diet in college.
Speaker 4:
The Global Autoimmune Institute works to empower solutions in the diagnosis and treatment of autoimmune diseases through research, education and awareness while supporting multidisciplinary approaches to health, we are thrilled to support the production of this educational podcast.
Vanessa Weisbrod:
Welcome back and welcome Janis to the podcast. You might recognize Janice's voice as she is our regular voice of the patient, but I'm so happy to have you here this month to share your expertise on navigating college with celiac disease. Welcome, Janis.
Janis Arnold:
Thank you so much. It's a pleasure to be here in this capacity as well.
Vanessa Weisbrod:
So Molly found adopting to the gluten-free diet to be very challenging in the college setting. In a perfect world, what resources would've been helpful to her at the point of diagnosis?
Janis Arnold:
It's a great question. First and foremost, to figure out how you're going to navigate life with a gluten-free diagnosis, you need to know what is gluten-free and how to read labels and how to navigate shopping. So I think an appointment with a nutritionist who specializes in celiac disease would've been the first most helpful resource to Molly, then she could figure out what additional resources she needed, where she was getting kind of tricked up when going grocery shopping, what replacement she needed to find for foods that were already beloved. In addition, having access to other college-aged youth who are navigating this kind of young adulthood transition and have been managing celiac for quite some time would've been a wonderful mutual aid connection so that she didn't feel as lost and lonely
Vanessa Weisbrod:
For sure. So at Boston Children's Hospital, how do you help patients heading off to college adapt to the gluten-free diet? How do they get accommodations at their university?
Janis Arnold:
It's really a two-pronged approach. The first bucket of preparation we want to do are the logistical pragmatic preparations, which I'll get to regarding advocating at the university. The second kind of bucket of preparations are really the emotional social ones, anticipating social scenarios right down to maybe even role playing, what you would do in a social scenario that maybe you would otherwise, feel excluded from or would want to make sure you have a safe option from. In terms of anticipating transition to the university and getting the accommodations necessary, it always starts with the Office of Disability Services, and this is often called something different on different campuses, maybe the Dean of Students with Disabilities or Student Access Center. Essentially, this is where students can go to make sure to put in writing and on file, setting the precedent that celiac disease qualifies them for accommodations.
We know that under the federal law, celiac is a chronic health impairment that impacts a major life activity and is going to last more than 12 months. So by virtue of those criteria, students even at the collegiate level are entitled to accommodations. Then, what it comes down to is anticipating the different categories of accommodations. We want to think about the academic protections, the things that help protect our students academically so that they're not penalized for anything that's beyond their control and accidental ingestion, unknown cross-contamination that leads to symptoms. Then, the other category of accommodations are those environmental accommodations. The things that really help our college-aged students move about a campus and live comfortably and have access to what they need.
That's where the accommodations for residential life and dorm living come in, but it's much harder to get those accommodations if someone hasn't already gone on file to establish eligibility through their Office of Disability Services.
Vanessa Weisbrod:
So what happens if the college says that gluten-free options just aren't available in the dining halls? Are they obligated to accommodate?
Janis Arnold:
It's a great question and unfortunately, we do hear that. We're hearing it less and less as time goes on and there's increased awareness, but colleges are indeed obligated to accommodate. They have to make available a nutritious and nutritionally complete meal that is gluten-free available for purchase for any student who has celiac disease. It can get tricky because what colleges don't have to do is make that meal delicious or appetizing. So sometimes it does take a lot of conversation and problem-solving so that we can make sure our students have access to what they need and what we know that they'll eat to stay nourished. So if a college says that they don't have access to these products, then that's when we know we need to have meetings set up with head of dining services and food services individual managers for the individual dining halls that we anticipate our student might eat at, right down to the dietician and nutritionist consultant that the university surely has on staff.
Vanessa Weisbrod:
I know you've helped many celiac patients with housing requests for kitchens. Talk to our listeners about how to request a room with a kitchen or other potential items like a personal refrigerator or microwave.
Janis Arnold:
This is a really common request and it can make all the difference in our patients' lives at college, being able to have access to safe foods and navigate their academics and feel healthy while doing it. The first step is getting documentation from a GI provider that really lays out the facts of celiac disease. A lot of universities don't understand what it is. They sometimes think it's very similar to an allergy. They don't understand the delayed reaction, the cumulative reaction, the invisibility of it. So the letters that really document what this is and how strict lifelong exclusion is truly the only treatment for this disease, and also, a letter that outlines what the consequences are medically, if this is not followed, then that sets the platform to be able to advocate for why access to standard kitchen appliances is critical and crucial for our students who might need to eat at odd hours of the day or night based on their own schedule or study groups.
Why our students need the ability to safely prepare and store foods that they are positive, are free from cross-contamination and cross contact if they've continued to try dining hall food and despite these selections continue to get sick or find that there's just not foods that they enjoy and are likely to eat at the dining halls at the given times they're there.
Vanessa Weisbrod:
Sometimes we hear from patients that their university says they have gluten-free food options available, but they keep getting sick from likely cross contact. How do you help patient families navigate these situations?
Janis Arnold:
That's a great question. We often find that university staff are very invested and interested and want to learn and just haven't figured out how to execute this appropriately and consistently yet. In those situations, we try to remind everyone to have an open mind and open heart, assume the best intentions in the food service staff, and it goes back to having educational sessions with the folks who are actually doing the food prep. Early on, I mentioned that sometimes we're setting up meetings with the directors or managers of the dining halls, and if this situation were to keep happening, this inadvertent cross contact, despite efforts to serve gluten-free food, it would tell us that the food preparation is not happening consistently and safely.
So, it means that we need to bring in the folks who are actually doing the food prep at the times the dining halls are open or food is being packaged, and make sure that they're getting education from a consultant on safe preparation.
Vanessa Weisbrod:
So let's talk for a second about risky behaviors. We know that sometimes there can be peer pressure to have just a little bit of gluten or just have it this once. How do you help college-aged students handle these types of situations?
Janis Arnold:
This is a great question because it is so much integrated into the very developmental stage that our patients are managing, and it's hard because aside from just peer pressure, there's actual desire to participate in things that feel like they're the hallmarks of kind of a college experience. So it comes back as all things do, to the facts, making sure that we're helping young adults understand the risks of all of the risk taking behavior, whether it's intentional ingestion or ingesting something that maybe is harmful for many other reasons than just the gluten containing product like alcohol. So we want to help students and young adults think through what the consequences could be. Usually, the aim of participating is to be a part of things, to be connected.
So helping students realize that should they get sick, they're actually going to be more disconnected than had they just withheld their temptations from participating the prior night because they're likely to get quite ill, miss class, not be able to go out on subsequent nights with their friends. So it comes down to kind of a cost benefit so that young adults can feel like there's alternatives so that they can participate and stay connected, but make safe choices while they're doing it.
Vanessa Weisbrod:
Starting a gluten-free diet can be challenging at any point in life, but even more challenging when it's the same time as adapting to college life. How do you counsel patients like Molly on ways to make the transition easier when they feel it's an impossible hurdle to overcome?
Janis Arnold:
I think the first approach is to really acknowledge and honor that it does feel impossible to these young adults that they are going through a tremendous life stage pivot, both developmentally moving to college or attending college and being on a campus and meeting new folks and a tremendous life stage pivot to overhaul their diet and lifestyle to be entirely gluten-free. So I always want to make sure we don't leapfrog over that because there's some real work to be done, just acknowledging and accepting that and kind of making peace with the reality of what's going to come. Beyond that, it really comes down to anticipating, educating and communicating. I find that if those three actions are done, that most anything can be accomplished. We also want to help our young adults understand that the word transition exists for a reason. It is a transition because things can be incremental, there can be baby steps.
You just start right where you are right now and the next step will come. That also helps us be able to look at where there's kind of like minor difficulties and incremental changes that are proving more painful, more socially painful, more emotionally painful, and then, we can kind of fine tune how to cope with those specifically. I find that at this age it's a little bit harder than maybe our patients whose parents are managing a household at age eight and doing an entire kitchen overhaul. At this age, we're really saying it's almost a harm reduction model. Any next best decision you can make is going to make you more healthy and feel better, and we'll go from there.
Vanessa Weisbrod:
Well, this was so helpful, Janis. Thank you so much for all of these wise tips and to Dr. Kourosh for all the wisdom that you both shared today. So now, let's switch gears and find out where Molly is today.
Janis Arnold:
Today, Molly is 29 years old and thriving, living with celiac disease and DH. It took her some time to get to this point, and she still refers to her first two years of college as the most challenging of her life. It wasn't until she was randomly seated next to a nutritionist also living with celiac disease on an airplane that she realized how many resources were available to patients with celiac disease. This was two years post-diagnosis. When she returned to her college dorm, she called her mom, who once again jumped into action and set up an appointment with a dietician near her university. That first meeting completely changed her life. Molly's skin lesions have long been under control, and she is in the throes of planning her wedding.
On the big day, she plans to wear a strapless dress that she feels completely comfortable in showing her bare arms. Molly didn't make it to the Summer Olympics, but she currently coaches a youth swim team in her town where the kids are her pride and joy. In her own words, "My biggest mistake in my health journey was not relying more on my parents and family for support when I started getting symptoms. When I went to college, I thought I had to do it all on my own and just figure it out, but what I really needed was help getting the right doctors and the right resources to get myself on the right path to being a normal college kid."
Vanessa Weisbrod:
Thanks for listening to today's episode of Raising Celiac. A special thanks to the generous contribution from the Global Autoimmune Institute to make this podcast possible, a reminder to all physicians, nurses, social workers, dieticians, and psychologists. To claim your continuing education credits for listening to today's episode, please visit dme.childrenshospital.org/raisingceliac and complete the short survey attached to this episode. If you like what you heard, be sure to write a review, like and subscribe, wherever you get your podcasts. For more information, check us out on social at @bostonchildrensceliac on TikTok, @ChildrensCeliac on Twitter or @celiackidsconnection on Instagram. Join us next month when we discuss the relationship between celiac disease and mental health. Have a great month.