BCH Teaching Certificate Program
Get Started
This course is currently closed
Welcome!
This website is your home base for the The Boston Children's Department of Education's Teaching Certificate Program. The program consists of 6 core seminars; 4 elective Academy sessions; 5 observation/coaching activities; and 1 evaluation/feedback forms.
Under the Course Content Section below, you will find a listing of all the required course components, which must be completed prior to graduation. We have included pre-readings for each of the core certificate seminars and post-seminar reflection assignments, which must be uploaded <6 weeks after the seminar. After you have completed all assignments for the core seminars, please complete the "Course Evaluation Form."
We prefer that you attend certificate sessions live or synchronously; CE credits are only available when participating in a live session, in-person or via Zoom. The session recordings are provided only as a final option for graduation purposes; CE credits are not granted for viewing recorded sessions.
Following the core seminar listings, you will find activities that have fields for you to notate the dates and times when you completed the Peer Observation, 3 Coaching Meetings, and Master Teacher Observation. We ask that you complete these activities (in any order) in your first year of the certificate program. These activities are independent from the core seminars.
After you have completed all teaching certificate requirements, please fill in the program feedback form.
Overview
Education is a core mission of Boston Children's Hospital. Teaching and training happens across the hospital for learners on a daily basis; however, health professionals are often asked to assume teaching roles without prior training in educational principles or teaching methods.1 Boston Children's Department of Education's Teaching Certificate Program offers health professionals a pathway to greater knowledge of educational principles and clinical teaching practices, while providing meaningful hands-on instruction that improves knowledge, skills, and attitudes. The program includes an annual seminar series focusing on core educational principles, teaching strategies, and best instructional practices. Sessions are taught by health professions educators who possess advanced degrees in education or have undergone intensive educational fellowships or programs. Certificate members receive personalized coaching and feedback to enhance their teaching skills. Program facilitators, possess extensive real-life experience, model best educational strategies, and foster the transfer of learning to actual teaching practices.2
Target Audience
Health Professionals who are new to teaching or would like to further develop their understanding of educational principles and their application to clinical settings across the Boston Children's enterprise.

1Steinert Y, Mann K, Centeno A, et al. A systematic review of faculty development initiatives designed to improve teaching effectiveness in medical education: BEME Guide No. 8. Med Teach. 2006;28(6):497-526. doi:10.1080/01421590600902976

2Yelon SL, Ford JK, Anderson W a. Twelve tips for increasing transfer of training from faculty development programs. Med Teach. 2014;1-6. doi:10.3109/0142159X.2014.929098
Objectives
Upon completion of Boston Children's Teaching Certificate Program, participants will be able to:
1. Apply adult learning principles and determine best teaching practices for an array of clinical teaching venues.
2. Determine effective educational strategies to promote competency and growth in one's learners.
3. Use reflection, observation, and coaching to further professional development as a teacher.
Lori Newman, MEd
Director, Teaching Certificate Program
Kathleen Huth, MD, MMSc, FRCPC
Associate Director, Teaching Certificate Program
Alan Leichtner, MD, MSHPEd
Chief Education Officer and Director of the Department of Education
Teaching Certificate Program Core Session Schedule
(See the BCH Academy seminar schedule here to sign up for the elective Academy professional development seminars — Reflections are not required)
Disclosure Policy
Boston Children's Hospital adheres to all ACCME Essential Areas, Standards, and Policies. It is Boston Children's policy that those who have influenced the content of a CME activity (e.g. planners, faculty, authors, reviewers and others) disclose all relevant financial relationships with commercial entities so that Boston Children's may identify and resolve any conflicts of interest prior to the activity. These disclosures will be provided in the activity materials along with disclosure of any commercial support received for the activity. Additionally, faculty members have been instructed to disclose any limitations of data and unlabeled or investigational uses of products during their presentations.
The following planners, speakers, and content reviewers, on behalf of themselves and their spouse or partner, have reported no relevant financial relationships with any entity producing, marketing, reselling, or distributing health care goods or services consumed by, or used on patients.
The following course faculty have reported no disclosures:
Lori Newman, MEd (Director, Teaching Certificate Program)
Kathleen Huth, MD, MMsc-Medical Education, FRCPC (Associate Director, Teaching Certificate Program)
Alan Leichtner, MD, MSHPEd (Chief Education Officer, Executive Director, Department of Education)
Emily Crossen, MSN, RN, CPHON
Eva Gomez, MSN, RN, NPD-BC, CPN
Beth Harper, MD
Joshua Nagler, MD
Shelly Pignataro, MSN, RN, NPD-BC
Ariel Winn, MD
Select a group link to see fellow learners from your cohort. We encourage you to create or update your profile by adding a photo, your degree and department, and telling us about your interests. To edit your profile, select 'My Profile' at the top/right of the page, then select the 'Profile' tab.
2023-2025 Cohort
2022-2024 Cohort
Alicia Casey
Michael Ferguson
Shannon Fitzgerald
Elizabeth Gulla
Elizabeth Holleran
Alyssa Horn
David Kane
Annie Sullivan
Katherine Sweeney
If after review the contents below you still have questions or need help, please contact:
medicaleducation@childrens.harvard.edu
How do I Access this Course?
Once you are logged in, there are two ways to access this course:
Select My Profile at the top of any page. Scroll down to see the list of courses your are enrolled in. Select the link for the BCH Teaching Certificate Program course.
Select Professional Development from the main site menu. Scroll down to select the Teach Certificate Program option form the left side page menu. Select the Program Course menu item, the select "Go to Course" in the course tile.
How do I Navigate this Course?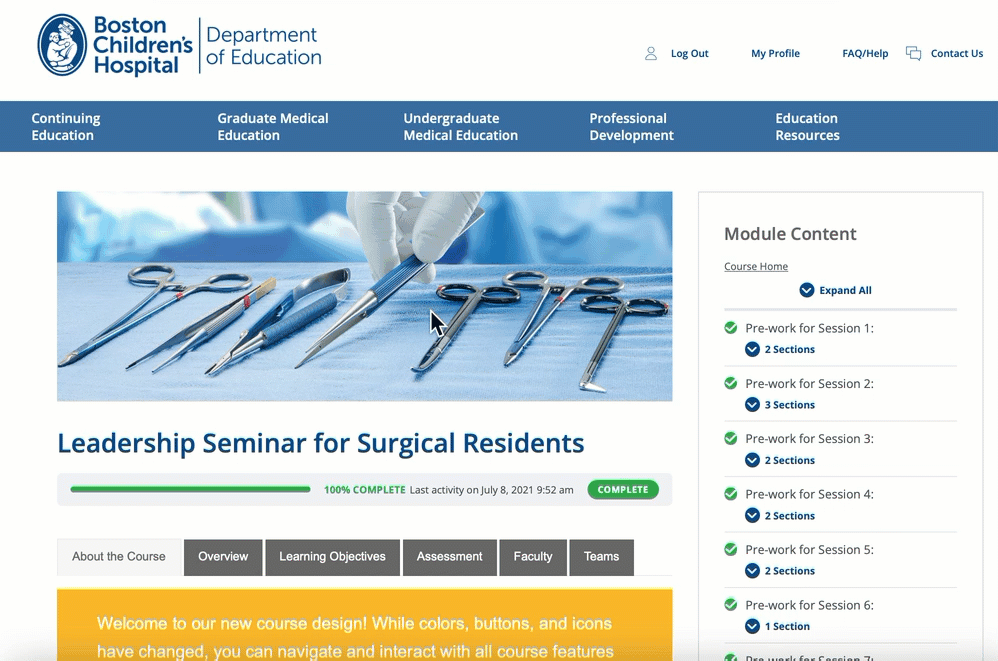 How do I Review My Activity Submissions?
You can review any submissions you've made by selecting the arrow next to the BCH Teaching Certificate Program title in the course list under your profile. From the list of completed activities, select the clipboard icon under the statistics column.
How do I Edit My Profile
If you are logged in, you can edit your profile at any time. Select My Profile in the upper right corner of any page, the select "Edit" under the "Profile" tab.