Julie Snyder, PsyD
Director of Psychology Services, Division of Gastroenterology, Hepatology and Nutrition, Boston Children's Hospital
Assistant Professor of Psychology, Harvard Medical School
Amy Hale, PhD
Attending Psychologist, Division of Gastroenterology, Hepatology and Nutrition
Assistant Professor in Psychology, Harvard Medical School
Julia Carmody, PhD
Attending Psychologist, Division of Gastroenterology, Hepatology, and Nutrition
Instructor of Psychology, Harvard Medical School
Ryan Davidson, PhD
Attending Psychologist, Division of Gastroenterology, Hepatology and Nutrition
Instructor of Psychology, Harvard Medical School
Manuela Villa, PhD
Attending Psychologist, Division of Gastroenterology, Hepatology and Nutrition
Instructor of Psychology, Harvard Medical School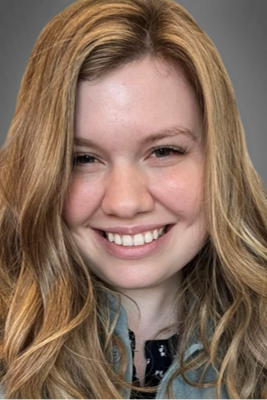 Rebecca Kramer, PhD
Attending Psychologist, Division of Gastroenterology, Hepatology and Nutrition
Instructor of Psychology, Harvard Medical School
Laura Distel, PhD
Attending Psychologist, Division of Gastroenterology, Hepatology and Nutrition
Instructor of Psychology, Harvard Medical School
Samuel Nurko, MD, MPH
Director, Center for Motility and Functional Gastrointestinal Disorders; Director, Functional Abdominal Pain Program
Professor of Pediatrics, Harvard Medical School
Many clients presenting to community mental health providers experience gastrointestinal symptoms including chronic pain, nausea, irritable bowel syndrome (IBS), inflammatory bowel disease (e.g. Crohn's Disease, Ulcerative Colitis), and avoidant and restrictive feeding disorders (ARFID). Children, adolescents, and young adults with chronic GI problems often miss school, have greater healthcare utilization, and have parents who miss more workdays; they also have higher rates of depression and anxiety than youth with other chronic diseases. Many gastroenterologists routinely refer patients for mental health services, and while mental health providers may be well-versed in treating mental health concerns they may be less familiar with the application of psychological interventions for specific GI symptoms.
This skills-focused workshop will educate community mental health providers on the most recent research about the brain-gut connection and outline evidence-based treatments for clients presenting with a variety of GI symptoms. Using lecture, clinical examples, and skill-building activities this full day workshop will equip clinicians to work with clients to improve quality of life and reduce gastrointestinal symptoms. The presentation was recorded at The Brain-Gut Connection: Evidence-Based Psychological Strategies for Treatment of Gastrointestinal Symptoms on Feb. 1-3, 2023.
Learning Objectives:
At the conclusion of this educational program, learners will be able to:
Recognize commonly diagnosed pediatric gastrointestinal conditions and describe the biopsychosocial conceptualization and treatment model for these disorders.
Recall specific GI-focused questions that can be incorporated into the psychological assessment process and the language/metaphors to utilize when discussing the biopsychosocial treatment approach.
Describe strategies to promote functioning and to maintain/enhance quality of life in pediatric patients diagnosed with gastrointestinal conditions.
Identify and apply evidence-based psychological treatment strategies for the management of pain and other GI-related symptoms.
Identify and apply evidence-based psychological treatment strategies for feeding difficulties including avoidant/restrictive food intake disorder (ARFID).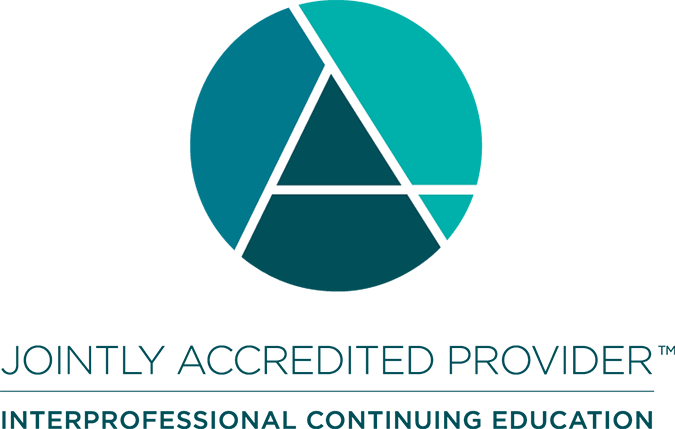 In support of improving patient care, Boston Children's Hospital is jointly accredited by the Accreditation Council for Continuing Medical Education (ACCME), the Accreditation Council for Pharmacy Education (ACPE), and the American Nurses Credentialing Center (ANCC), to provide continuing education for the healthcare team.
Psychology
Continuing Education (CE) credits for psychologists are provided through the co-sponsorship of the American Psychological Association (APA) Office of Continuing Education in Psychology (CEP). The APA CEP Office maintains responsibly for the content of the programs.
This course has been approved for 18.0 continuing education credits.
Social Work
As a Jointly Accredited Organization, Boston Children's Hospital is approved to offer social work continuing education by the Association of Social Work Boards (ASWB) Approved Continuing Education (ACE) program. Organizations, not individual courses, are approved under this program. State and provincial regulatory boards have the final authority to determine whether an individual course may be accepted for continuing education credit. Boston Children's Hospital maintains responsibility for this course. Social workers completing this course receive 18.0 ACE CE continuing education credits.
Disclosures
Boston Children's Hospital adheres to all ACCME Essential Areas, Standards, and Policies. It is Boston Children's policy that those who have influenced the content of a CME activity (e.g. planners, faculty, authors, reviewers and others) disclose all relevant financial relationships with commercial entities so that Boston Children's may identify and resolve any conflicts of interest prior to the activity. These disclosures will be provided in the activity materials along with disclosure of any commercial support received for the activity. Additionally, faculty members have been instructed to disclose any limitations of data and unlabeled or investigational uses of products during their presentations.
The following planners, speakers, and content reviewers, on behalf of themselves, have reported the following relevant financial relationships with any entity producing, marketing, reselling, or distributing health care goods or services consumed by, or used on patients:
Jazz Pharmaceuticals, Research Consultant
IHS, Consultant; Allergan, Grant support
Please see the FAQs below for common questions about how to work through a course. If you have a question or issue that is not addressed in the FAQ, please use this form to submit a help request, or if your issue is urgent, call the CME office at: 617-919-9908.
How do navigate this course?
How do I navigate this course?

There are two ways to access and navigate course content with the interactive table of contents: at the bottom of the main course page or in the sidebar on the right side of the page. Select the links in the table of contents to access the corresponding content. Depending on the course, access to content may be linear, in which case each content module or section can only be accessed if the prior ones are completed, or non-linear, in which case modules and sections can be accessed in any order. Use the breadcrumbs at the top of any course page to orient yourself within a course, or return to a previous course section or the main course page.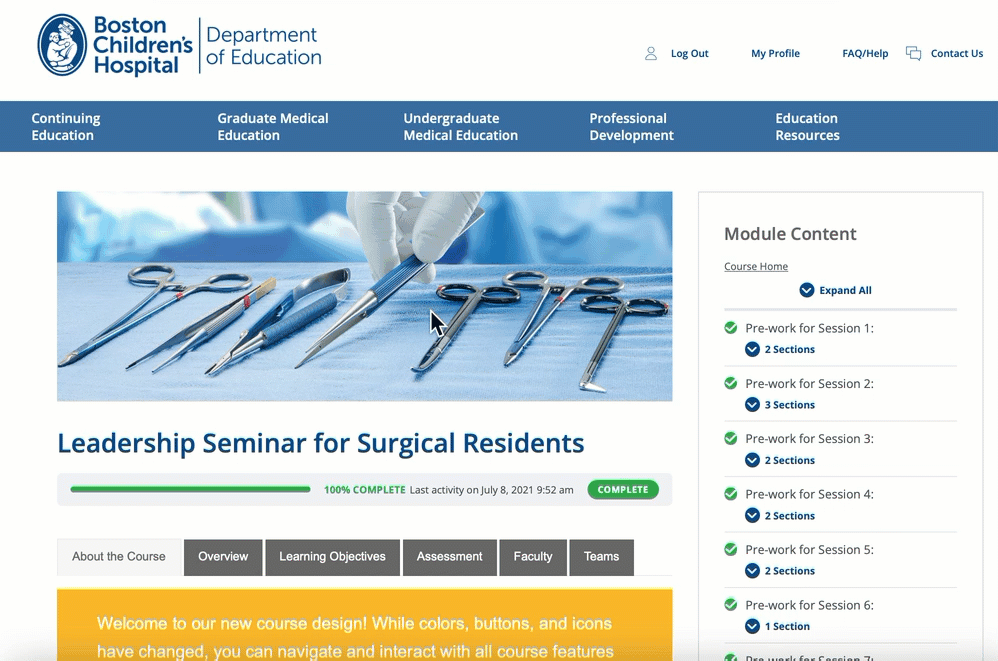 How do I claim credit for this course?
How do I claim credit?

If the course has been accredited, available credits will be displayed on the course home page. Select only those credits that apply to your profession, and click/tap "Apply Selection." You may make your selection at any point while you are taking the course, or after you have completed it.
How do I download a certificate?
How do I download a certificate?

There are two ways to view/download your certificate: from within the course or from the course listing under your profile (select the document icon). In either case, you must have selected at least one available course credit type to generate a certificate.
How do I view/print my transcript?
How do I view/print my transcript?

You must be logged in to view your transcript. Select My Profile at the top of the page. If you do not see the transcript selector, be sure the Courses tab is selected. Select the type of credit and dates to include in your credit report. To include all credits from all time, leave the options blank. Select Download Transcript to view/download your transcript. Note each credit type in your transcripts starts a new page.
How do I request a refund?
How do I request a refund?

Please email the CME Department to request a refund.
archive-sfwd-courses.PHP